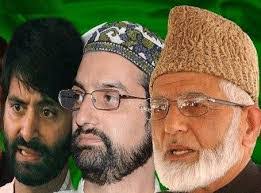 Srinagar: The Joint Resistance Leadership (JRL) comprising of APHC (G) chairman Syed Ali Shah Geelani, APHC (M) chairman, and Jammu Kashmir Liberation Front (JKLF) has said  that summoning Mirwaiz Muhammad Umar Farooq, Syed Naseem Geelani and other to Delhi by National Investigation Agency (NIA) and Enforcement Directorate (ED) is aimed at fooling Indian public to garner more and more votes and seats in upcoming Indian elections.
"It is a condemnable act," JRL stated in a press release.
 JRL said that framing "concocted charges by using NIA, ED like agencies" and then intimidating leaders, their children, kith and kin and friends under this garb is ample proof of Indian failure to defeat Kashmiri resistance and this is what has prompted India rulers to start a new revengeful oppression against Kashmiris.
JRL said that a struggle that is nourished by the "sacred blood of martyrs" cannot be defeated by such mean acts and as long as a single Kashmiri lives.
The JRL said  NIA, ED warrants and summons against Mirwaiz Muhammad Umar Farooq, Syed Naseem Geelani and others was part of 'operation all out' and was an undemocratic act.
Deploring the arrest of JKLF chairman, one of the member of JRL, Muhammad Yasin Malik , Spokesman of Jamat-I-Islami Advocate Zahid Ali, vice president of Jamiat Ahlihadees Molvi Mushtaq Ahmad Veeri and hundreds of others under  Public Safety Act, reopening of  "concocted cases on Malik and others," JRL said that this arrest spree is also part of operation all out  and Kashmiris have been bearing this kind of tyranny from 70 plus years now.
"These suppressive measures have failed in the past and are bound to fail in the future too, asserted the JRL," it stated.
Leadership said that veteran ailing leader Syed Ali Shah Geelani has been placed under house arrest from last many years and Mirwaiz Muhammad Umar Farooq and others are also often caged like this and the main purpose of these confinements is to stop leadership from meeting masses.
They also termed the ban on Jamat-I-Islami and arresting its entire leadership including Ameer Dr Hameed Fayaz as dictatorial
Asking people of Jammu Kashmir to remain steadfast, upright and affiliated to the resistance movement, JRL said that from long Kashmiris have been bearing "Indian atrocities and resisting its tyranny" with passion and steadfastness'.