Srinagar:The Jammu and Kashmir National Conference (NC) and Indian National Congress are all set to go for an alliance in Jammu and Kashmir ahead of the Lok Sabha polls starting April 11.
News18 quoting sources from both parties said that Congress president Rahul Gandhi and NC vice-president Omar Abdullah are meeting in New Delhi soon and negotiating the alliance arrangement.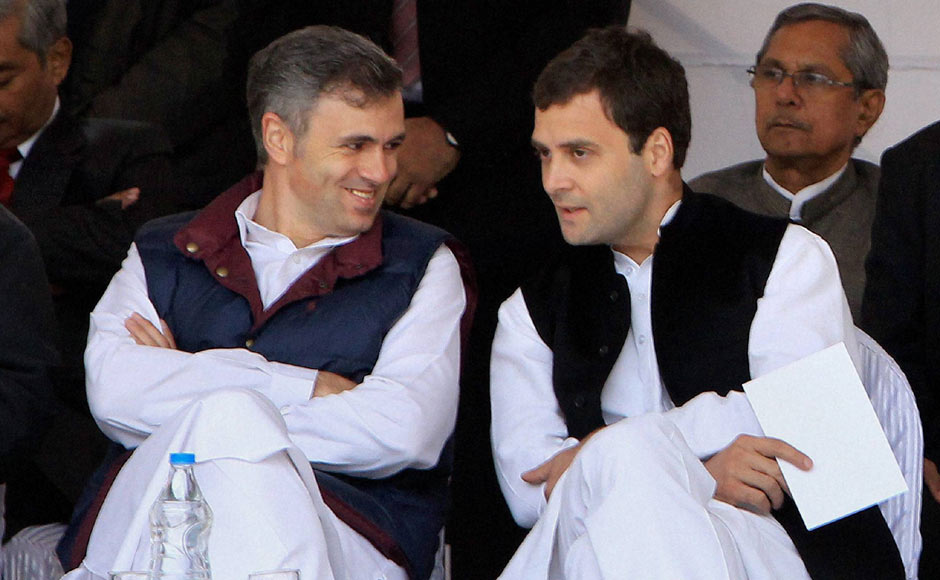 On Tuesday, J&K state president of Congress GA Mir traveled to Delhi and held a number of meetings with his party leadership. Congress has appointed Ghulam Nabi Azaad, the Leader of Opposition in Rajya Sabha and the former chief minister of J&K, as its head for campaign and election management committee in the state. On Wednesday, Congress chief Rahul Gandhi had hinted to the alliance's announcement and said that it is "close to final stages."
The National Conference is already part of Mahagathbandhan, an emerging united "Federal Front" to counter Bharatiya Janata Party (BJP). Most of the leaders of both the parties in the state are with the formation of this alliance.
"If we come together at this time. BJP will be defeated, completely in the state," said Congress leader, Vikar Rasool. "Meetings are going on between top leadership in Delhi. From our side, it would be Rahul Gandhi, Ghulam Nabi Azaad and GA Mir who will take the decision," he added.
While all the NC leaders, whom News18 talked to, accepted that meetings are going on and the process is in the final stage, some of them expressed their reservation for the alliance.
"A lot of workers of our party will not be happy with this decision. Also, there is every possibility that it may harm our voter base in several areas," a senior NC leader told News18 on the condition of anonymity.