Srinagar: The Pakistan Army believes that the ball is in India's court now to de-escalate tensions between the two nuclear-armed neighbours.
In an interview with CNN, Director General Inter-Services Public Relations Major General Asif Ghafoor said it was up to New Delhi to follow Pakistan's decision of releasing captured Indian pilot as a peace gesture and decide whether it wanted to move towards de-escalation or continue pursuing a warmongering agenda.
He said the army felt that the ball is in India's court – the situation will get worse should they decide to escalate tensions.
When asked about the tumultuous ties, Ghafoor said the two nations had "come close to war" because when India violated Pakistani airspace on February 26, it initiated aggression. A day later, Pakistan Air Force's carried out a retaliatory strike by targeting open spaces to ensure no human and collateral damage occurred.
The military spokesperson explained the situation at the Line of Control (LoC) had been "eyeball-to-eyeball" for decades but the recent Indian aggression resulted in both countries adopting safeguards.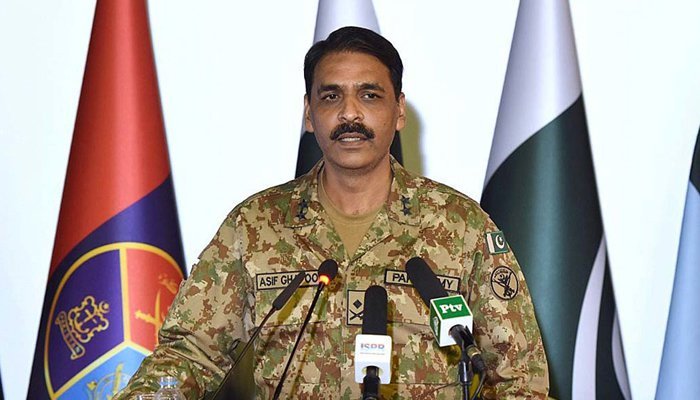 The number of troops along the LoC has increased – as part of military planning, safeguard measures are taken when the stations are deemed hot, he told CNN.
Ghafoor refuted Indian claim of destroying Jaish-e-Muhammad (JeM) "training camps" in the mountainous reigns of Balakot. He asserted that there was no human casualty nor did the airstrikes damage any infrastructure. "Their claims are false. I believe a recent announcement from their [Indian] side as well that they cannot claim any casualty," he added.
Elaborating on the government's decision to act against JeM, the ISPR spokesperson shot down Indian claims over the February 14 Pulwama attack. "First of all, the claim was not made from within Pakistan since JeM does not exist in the country. It was proscribed by Pakistan and the United Nations."
Ghafoor refuted the perception that the state was acting under pressure and asserted that "anybody who operates from Pakistan" is against the country's interest. "Instead of blaming Pakistan, it is time the world assisted and facilitated Pakistan in getting rid of such organisations."
When the host asked Ghafoor to reflect on what triggered the attack on Indian soldiers in the disputed valley, the military spokesperson said the answer could be found in the recent report on Indian occupied Kashmir issued by the United Nations Human Rights Commission.
The 2018 report highlighted grave human rights violations committed by the Indian forces in the disputed valley.
"If you suppress the local population to an extent that they are being killed, raped and fired upon by pellet guns then it is a natural reaction."
Ghafoor stressed that the claims were not just by Pakistan but part of the UNHRC report. "The world has to see what is forcing the Kashmiri youth towards violence."
He urged India to introspect rather than "frame allegations" against Pakistan.
"We have to move towards the resolution of Kashmir because the issue is a flashpoint for peace in the region," the military spokesperson concluded. (Express Tribune)