Srinagar: Peoples Democratic Party (PDP) president and former chief minister Mehbooba Mufti hit the streets on Thursday demanding lifting of ban on Jamat-e-Islami and arrests of its leaders.
Terming the ban on Jamaat a religious interference, Mehbooba said her party would continue to protest at district and constituency levels until the Jamaat leadership and clerics of Ahl-e-Hadith and other clerics are not released.
According to Kashmir News Service (KNS) correspondent, Mehbooba took out a rally in her home turf Anantnag where she accused BJP of trying to crush everyone that comes in its way.
She said when her party was in alliance with BJP, she had 'tightened noose' around the saffron party walk. 
Mehbooba said after breaking away from PDP led coalition, the BJP has turned into an 'un-controlled elephant' which is trying to decimate everything in Kashmir.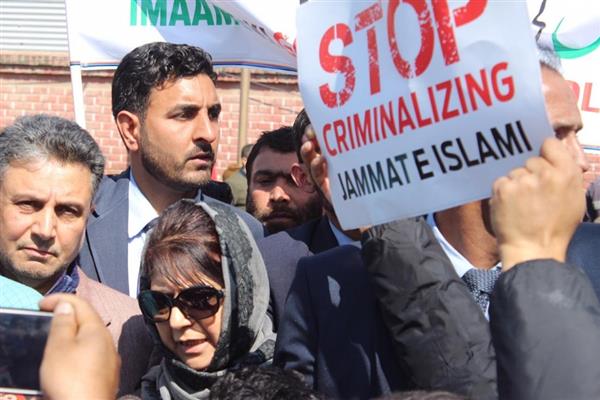 She demanded release of all JeI leaders and activists. "What are the charges against these leaders. They have arrested 60 and 70 years old aged people without any solid proof of any charge," she added.
The PDP chief stated that there is war like situation on borders and a revenge politics has been started in Kashmir by BJP through its Governor.
Mehbooba said her party would continue protesting at District and constituency levels unless the arrested Jammat leaders are released and demanded that government make the charge-sheet of these bans and arrests public.
Mehbooba also favoured delay in holding assembly polls. "Polls will come and go. What should be the priority this time is to pull out valley from the current turmoil," she said. 
It may be noted that Jamaat-e-Islami (JeI) was banned last week by the Union Home Ministry on "opinions" that it is in "close touch with militant outfits and is supporting extremism and militancy", supporting claims for "secession" and was also involved in "anti-national and subversive activities". (KNS)