Srinagar: Government on Friday imposed restrictions parts of Downtown Srinagar  and parts of south Kashmir while as mobile Internet speed was reduced to 2G across the Kashmir valley.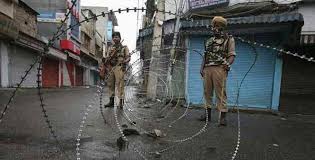 Reports said that the restrictions have been imposed as a precautionary measure to maintain "law and order".
Hurriyat Conference (M) chairperson who addresses the faithful at Jamia Masjid in Srinagar has been played under house detention.
Reports said that the authorities have made additional forces in Downtown and Anantnag and Bijbehara towns in south Kashmir.