Srinagar: Director General of the Pakistan Army's media wing, Inter-Services Public Relations (ISPR), Major General Asif Ghafoor on Friday warned India to "not mess with Pakistan".
Addressing a press conference, DG ISPR said, "There are quite a few topics which I wanted to discuss for a while. However, most of my discussion will be on the situation arising after the Pulwama attack."
"On February 14, a Kashmiri youngster targeted Indian security forces. After the incident, India starting bombarding Pakistan with allegations without any thought or proof," Major General Ghafoor said, Geo News reported "Pakistan took time to respond. We wanted to investigate the allegations and when we were sure footed, the prime minister of Pakistan responded."
"Before I speak further about this issue, I want to say some things. In 1947, Pakistan gained independence and this is something India has not been able to accept till date. In 1998, we obtained nuclear power while in 2008 we were fighting a decisive war against militants and emerging successful so India started to mobilise its troops on the border," he explained.
"Whenever the situation improves in Pakistan, India tries to destabilise the country," the head of the military's media wing asserted. "In February, when the Pulwama attack happened there were eight important events in Pakistan — Saudi crown prince's visit, Afghan reconciliation process, UNSC talking about terror financing, EU deliberating on human rights violations in occupied Kashmir, Kulbhushan Jadhav hearing, FATF hearing and decision on Pakistan, PSL and Kartarpur meeting. The elections are upcoming in India and the indigenous struggle in Kashmir is high," Geo News reported.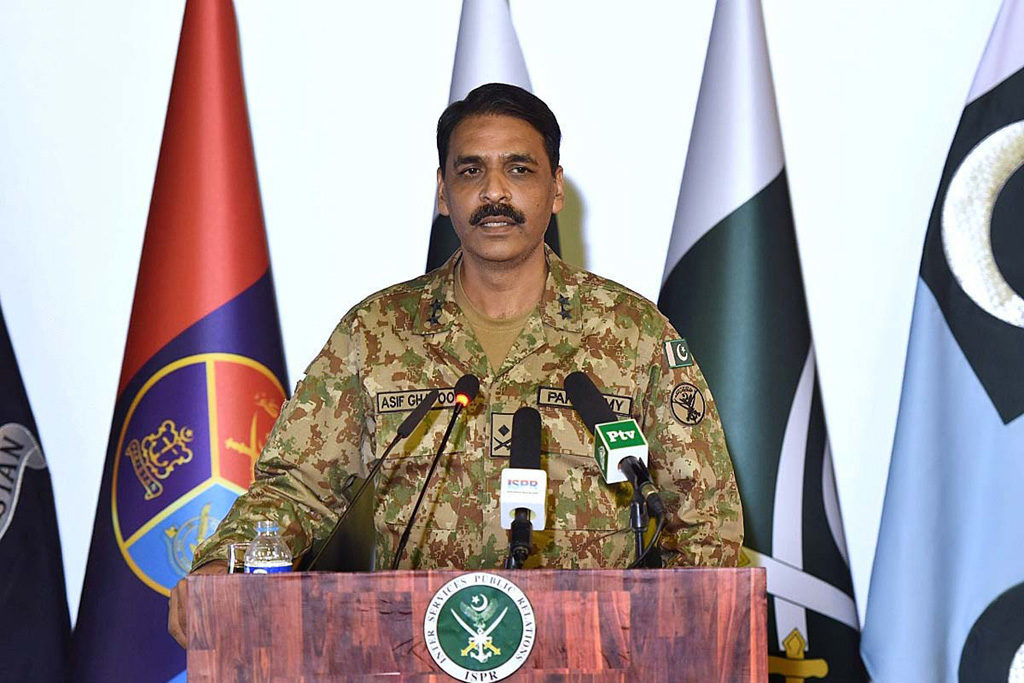 "How would Pakistan benefit from Pulwama attack in light of these events? Pakistan would be at a loss," the head of the military's media wing stressed.
Major General Ghafoor continued, "The attack took place miles away from the Line of Control (LoC) and the explosives used were not from Pakistan. The car used was not from Pakistan either. The attack was carried out by a youngster from Kashmir who was 'mistreated' by Indian security forces."
"People in Indian media and social media had predicted an attack like this prior to the elections."
Questioning whether Pakistan is in diplomatic isolation, DG ISPR said, "You have seen how the heads and delegations of foreign countries are visiting."
"The prime minister made an offer to India which has never been made before. The premier offered to probe the India if actionable evidence is shared," he maintained. "We hope India will wisely consider Pakistan's offer for peace."
Refuting reports that "Pakistan is preparing for a war", Major General Ghafoor said, "Threats and reports of a war are coming from your side. We are only using our right to self defence."
"We do not wish to go to war but please be assured should you initiate any aggression, first you will never be able to surprise us. But let me assure you, we will surprise you. We shall also dominate the escalation ladder. Never think due to our commitments else where we will have any capacity lack," the DG ISPR warned.
"We have the will and determination, ways and means to reach our desired state. We can respond to a full spectrum threat. We hope you get this and don't mess with Pakistan," Major General Ghafoor asserted, Geo News reported.
Pakistan and India face heightened tensions after an attack in Pulwama whih left 49 CRPF personnnel dead and several others injured. New Delhi blamed Islamabad for the attack. The Pakistani PM Imran Khan denied the allegations.
On Thursday, Prime Minister Imran Khan directed the Pakistan Army to respond "decisively and comprehensively" to any aggression or misadventure by India. The premier issued the directives during a meeting of the National Security Council (NSC), which discussed the geo-strategic environment in the region as well as the situation arising after the Pulwama incident.