Srinagar: Former Jammu and Kashmir Chief Minister Omar Abdullah Thursday said that the continuous harassment of Kashmiris in mainland India is forcing people to think if the "two nation theory" was right.
"Kashmiri boys and girls are being harassed under a well thought out conspiracy. The situation is so horrendous that the people are compelled to think if the two nation theory was a right decision," Abdullah said addressing a press conference in Srinagar.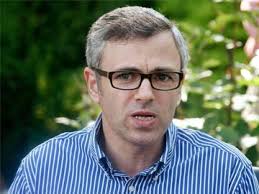 He said that the hotels at some places have put up placards saying that Kashmiris are not allowed to stay.
Abdullah asked as to why it was all being perpetrated and as why Kashmiris are being singled out to be targeted while government has maintained a 'criminal silence'.
"Are Kashmiris being targeted for being from a region which is India's only muslim majority state," Abdullah asked.
He urged the governor Satya Pal Malik to make arrangements for students who were compelled to leave their studies and return home.
He said that 'alienation among Kashmiris' will only increase with the situation that has unfolded in India.