Srinagar: The Joint Resistance Leadership has withdrawn tomorrow's shutdown call after it was known that Article 35 A is not listed for hearing before the Supreme Court tomorrow.
"JRL said that the protest strike call against hearing of 35 A case in Supreme Court of India on 14th February, has been withdrawn after the lawyers conveyed to the leadership that in the cause list issued by the Supreme Court at 7 pm today, it is not listed for hearing tomorrow," a statement issued by the leadership said.
The Kashmir bar association led by senior lawyers Mian Qayoom, Zafar Shah, Zaffar Qureshi, Mohd Ashraf and others are in New Delhi defending the case at the Supreme Court on behalf of the people of disputed J&K, said the JRL, adding they are in touch with the leadership.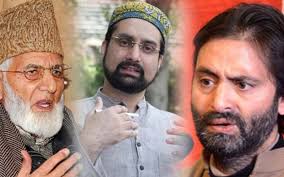 JRL said the senior lawyers of Bar will be present at the Supreme Court for the whole day tomorrow as well and will closely monitor the developments and update the leadership about it.
"Leadership reiterated that people of Jammu and Kashmir will forcefully resist every challenge by New Delhi to change the demography of the State and warned the authorities that if anything adverse to the interests of the people of J&K and its disputed status is announced through the courts a mass people's agitation will be started instantly across the state and the responsibility of the consequences of that  will be entirely on those forcing us to react," read the statement.