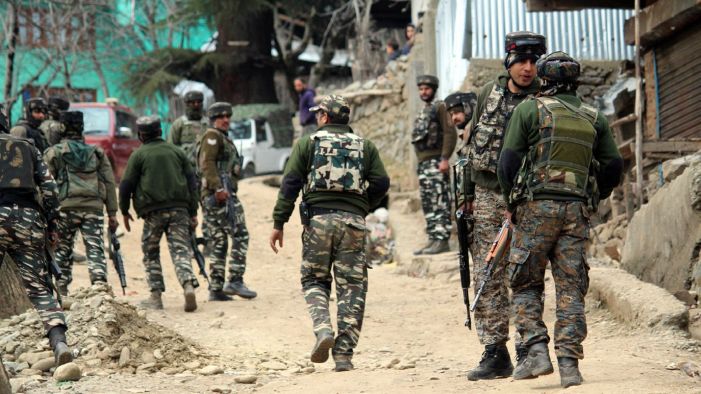 Two JeM militants were killed in a nocturnal gunfight at Drabgam area of south Kashmir's Pulwama district on Thursday.
Official sources told GNS that the contingents of army's 44 RR, CRPF and Special Operation Group (SOG) of police cordoned off Baba Mohalla of Drabgam village today at around 7:30 pm.
The forces had installed lights so as to prevent the escape of militant owing to darkness, they said.
As the forces intensified the searches, militants hiding in the area opened fire, leading to a gunfight which was going on when this report was filed, they said.
The army has already rushed more reinforcements in the area, they said.
A police officer confirmed the encounter and said that the cordon was launched following specific inputs about the presence of some JeM militants in the village.
In the ensuing gunfight, two militants were killed and their bodies were recovered along with as many weapons and other warlike stores, he said.
The officer said that the identity of the duo is being ascertained.
Sources said that a residential house of Abdul Khaliq Negroo where the militants were hiding was razed to rubble.
Police identified the slain militants as Shahid Mushtaq Baba, son of Mushtaq Ahmed Baba of Drabgam Pulwama and Inayat Abdullah Zigar, son of Mohammad Abdullah Zigar of Arihal Pulwama.
"Both the militants were affiliated with JeM and Baba was wanted by the law for his complicity in crimes," police said, adding that as per police records, Shahid Baba was active in Shopian and Pulwama areas and had a long history of crime records for which several cases were registered against him.
Earlier, as the cordon was being laid, the youth took to streets and pelted stones on forces which in turn lobbed tear smoke shells to disperse them.
Meanwhile, the internet has been suspended in Pulwama and neighbouring Shopian district of south Kashmir following the gunfight.