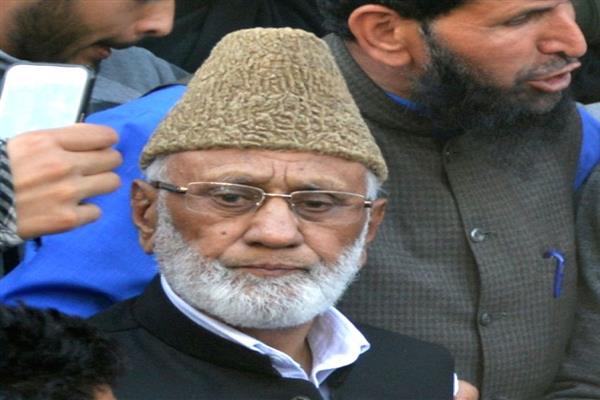 Srinagar: Tehreek-e-Hurriyat (TeH) Chairman Muhammad Ashraf Sehrai said said NC's Omar Abdullah must not forget that what he now calls the barbaric law (PSA) and the reason of human tragedies aimed to brutalize every dissent has actually originated from his home decades back.
"Why does he remember it as an opposition only," Sehrai questioned while reacting on Omar Abdullah's statement wherein he said, "Will repeal PSA if NC elected with majority"
He added that the, "NC has dual languages, one for power and another as opposition party. Their legacy of treason is now carried forward by today's loyalists of India who are riding our backs at the backing of lakhs armed forces."
"Infact supporters of India's forced control of Kashmir. They are opportunists who work as New Delhi's daily-wagers in Kashmir. Their only work is to endorse and shield crimes which India and its forces are committing against people of Jammu & Kashmir.
He said that the strategies and methods of all these pro-India political parties could be different in different times, but their "ultimate aim and design remains to strengthen India's military control over Kashmir".
"These people (pro-Indian politicians) are responsible for the miseries and bloodshed of the Jammu and Kashmir people and are playing an important role in strengthening the India's forcible control in the state," he said
While paying his glorious tributes to the slain Pulwama martyrs, Sehrai said, "The all out war has been launched against the tiny nation with the clear aim of dismantling the rights and to make Kashmiri people to submission. The nation will never budge from its stand and will carry Martyrs Mission till its logical end".
He said the "Sacrifices rendered by youths are exemplary".