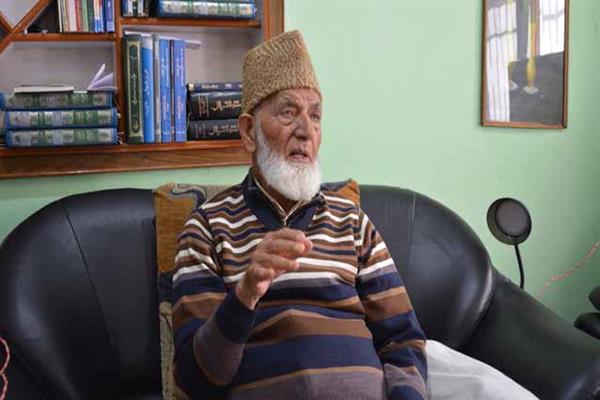 Srinagar: Hurriyat (G) Chairman, Syed Ali Geelani has said that oppression has touched new heights in Jammu and Kashmir and there seems to be no end to it.
"In these circumstances, we have only two options, either to migrate or fight this oppression. Since migration is not possible for us we will have to rise to the occasion and fight against the oppression," said chairman Hurriyat Conference (G), Syed Ali Geelani, in a telephonic address to the mourners of the martyr Saqib Ahmad.
Instead of accepting ground realities, Geelani said Delhi is hell-bent to suppress Kashmiris with its military might.
Hailing the sacrifices rendered by youth, Hurriyat (G) chairman said that their blood is precious than Haram-e-Paak and the people who 'bargain these sacrifices for their personnel gains are those consciousness people who betray their milli interests and will definitely get punished for such deeds in hereafter'.
Stressing upon people in general and youth in particular, Hurriyat chairman said that they need to strengthen faith, avoid misdeeds and nourish the Islamic culture in their homes and society without indulging in sectarian hatred and social evils.
Terming polls as election drama, Geelani said  the "multi faced political stooges pose as our saviors to fetch them votes in the name of roads, electricity and water, but in reality they are the people who strengthen the unholy bond of slavery so nation as a whole should desist from any support to them".
Meanwhile, expressing his grave concern on the deteriorating health condition of Hurriyat leader Hakeem Abdul Rashid lodged in Kotbalwal jail, Hurriyat Conference (G) General Secretary Haji Gh. Nabi Sumji said that our prisoners face the wrath of communal frenzy at the hands of fascist jail authorities.
He said that Hakeem Abdul Rashid is suffering from many ailments and his health has worsened in the Kotbalwal Jail and even he is not being treated and criminal negligence by the authorities has taken a heavy toll on his health.
Hurriyat (G) General Secretary condemned the plight of prisoners at the hands of jail authorities languishing in and outside state which include Masrat Aalam Bhat, Gh. Ahmad Gulzar, Muzafar Ahmad Dar, Dr. Shafi Sharyati, Dr. Mohammad Qasim, Gh. Qadir Bhat, Nazir Ahmad Sheikh, Tariq Ahmad Dar, Manzoor Ahmad, Ab. Gani Bhat, Mohammad Yousuf Falahi, Mohammad Yousuf Mir, Sarjan Barkati, Farooq Tawheedi, Sheikh Mohammad Ramzan, Asadullah Parray, Umar Aadil Dar, Bashir Ahmad Qureshi, Hakeem Showkat, Siraj-ud-din, Ab Rashir Magloo and others.