Jammu: Governor Satya Pal Malik hoisted the tricolour at the State level function on the occasion of the 70th Republic Day, at  the Sports Stadium of the University of Jammu.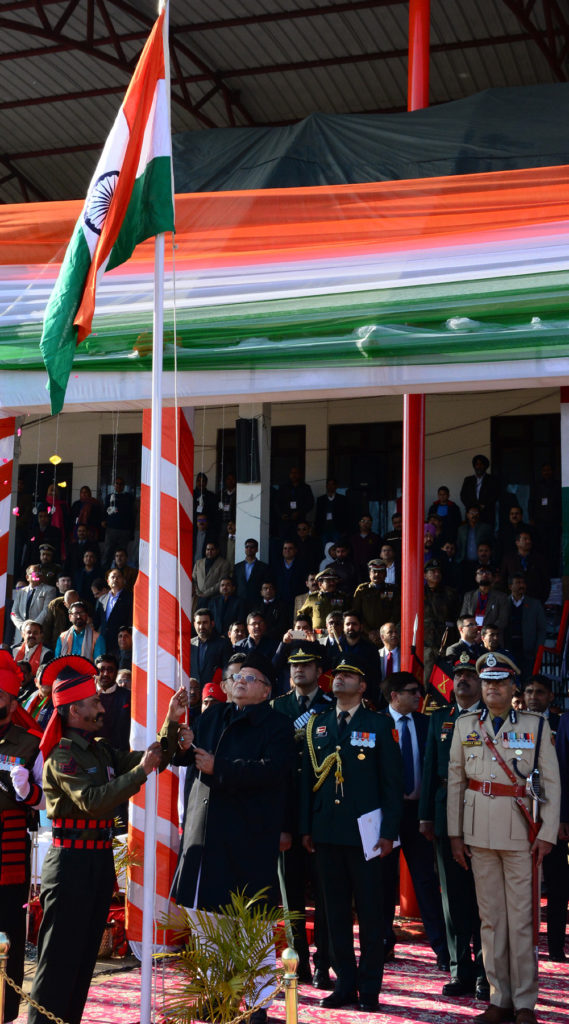 Governor inspected the parade and took the salute at an impressive march past which was commanded by Col. Baskar Singh of 1stBattalion J&K Light Infantry. The smart contingents participating in the Parade were from the Army, Border Security Force, Central Reserve Police Force, women contingent of the JKAP, J&K Police, State Disaster Response Force, Punjab Police, J&K Fire and Emergency Services, J&K Forest Protection Force, Excise Department, SSB 7th  Battalion, ex-Servicemen, NCC Boys and Girls, Bharat Scouts and Guides (Girls & Boys), Boys and Girls from various  schools, Bands of Army, BSF, J&K Police, Jammu and Kashmir Armed Police and of  several Boys and Girls Schools.
A colourful cultural pageantry based on national integration and the glorious composite heritage of the State was presented by students from various local schools on this occasion. Army Weapons and Equipment Display by Army; Motorcycle Acrobatics display by Dare-Devils of J&K Police was witnessed by jam-packed audience in the Stadium.
          Other attractions of the programme included tableau on  "Rain Water Harvesting" by CCDU, Department of PHE, Irrigation and Flood Control, Jammu; "Rural Empowerment" by the Department of Rural Development, Jammu; "Swatchh Bharat Grameen" by Department of Rural Sanitation; "Ayushman Bharat" by NRHM, Jammu; "Swatchh-Survekshan" by Jammu Municipal Corporation; "Saubhagya" by the Department of Power Development, Jammu and " Poverty to Prosperity" by J&K State Scheduled Castes, Scheduled  Tribes & Backward Classes Development Corporation Ltd.
Dr. Nirmal Kumar Singh, Speaker Legislative Assembly; Haji Inayat Ali, Chairman, Legislative Council; Sh. K. Vijay Kumar and Sh. K.K. Sharma-Advisors to Governor; Judges of the State High Court; Members of Parliament; MLCs; Sh. BVR Subrahmanyam, Chief Secretary; Sh. Dilbagh Singh, DGP; former MLAs; senior Civil, Police and Army officers, political and social activists, prominent citizens, media persons andthe citizenry were present on the occasion.
 Earlier Governor went to the Balidan  Stambh  and paid tribute to the brave military and para military men who sacrificed their lives for the honour of the country.