Srinagar: Hurriyat Conference (M) chairperson Mirwaiz Umar Farooq Friday questioned the silence of rights organisations across the globe and in India that stand for upholding the rights of prisoners especially those that are in prisons for their political beliefs as the political prisoners from J&K. Addressing  Friday congregation at historic Jama Masjid Mirwaiz said it is unfortunate that none of the rights organizations have visited the jails in J&K and across India where Kashmiri prisoners are lodged in dismal conditions despite repeated appeals by leadership and activists about their plight and the continued detention of hundreds despite completing their sentences.
Mirwaiz said that the hundreds of Kashmiri political prisoners lodged in various prisons across India and Jammu and Kashmir are not criminals but those heeding to the voice of their conscience and following their dream of striving for their people's just right to self-determination and being punished for it by an adverse state.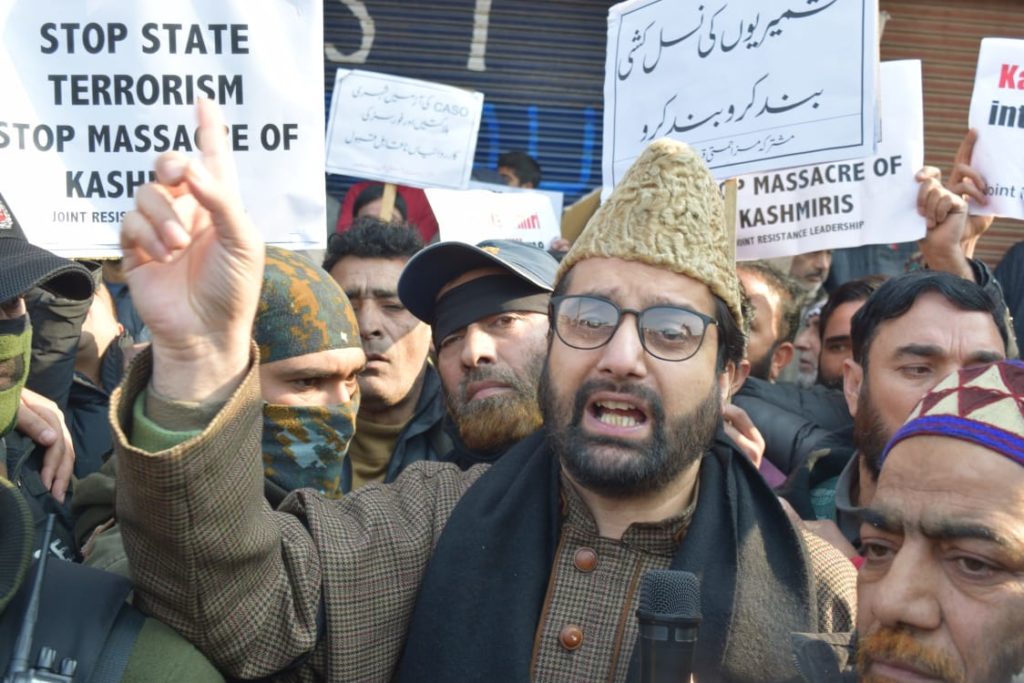 Mirwaiz said the state under its draconian laws the PSA and AFSPA has booked leaders activists and youth in made up cases and is subjecting them to illegal detention for years and decades which is highly condemnable. He said that the prolonged and in many cases perpetual detention of Kashmiri inmates is the worst form of human rights violations.
He said that majority of Kashmiri prisoners have been shifted from Valley to various Indian prisons in brazen violation of the Geneva convention that lays emphasis on keeping the prisoners in prisons closer to their homes and also its own Supreme Court verdict.
Giving details Mirwaiz said that at least 38 political prisoners are lodged in various jails even after completing their sentence that include Dr Muhammad Qasim Fakhtoo at Udampur Jail completed 26 years in confinement, Javaid Ahmed Khan languishing in Tihar Jail since 22 years, Muhammad Ayoub Khan at Tihar Jail who has completed 24 years , Mirza Nisar Hussain lodged in Jaipur Rajasthan since 22 years, Lateef Ahmed Waza who has completed 22 years in Jaipur Rajasthan, Ali Muhammad Bhat 22 years at Jaipur Jail Rajastan, Abdul Gani Goni 22 years at Jaipur Jail Rajastan , Ghulam Qadir Bhat 24 years Amphala Jail, Dr Muhammad Shafi Khan lodged at Hiranagar since 13 years, Feroz Ahmed Khan at Tihar since 16 years, Pervez Ahmed Mir at Tihar since 16 years, Maqsood Ahmed Bhat at Kotbalwal since 12 years, Bilal Ahmed Kuta lodged at Banglore central jail since 13 years, Ghulam Muhammad Bhat at Kotbalwal jail since 17 years, Muhammad Aslam Gojar lodged in Mumbai Jail since 13 years, Muhammad Ayoub Mir since 14 years, Muhammad Ayoub Dar since 18 years at Central Jail Srinagar, Showkat Ahmed Khan lodged in Central Jail since 11 years, Nazir Ahmed Sheikh at Kotbalwal since 18 years, Farooq Ahmad Sheikh at Kotbalwal since 11 years, Muhammad Abbas Wani is serving detention at Kotbalwal since 12 years. Sheikh Imran has completed 15 years in Central Jail, Barkat Ali Khan 16 years at Central Jail , Abdul Hameed Teli at Central Jail since 13 years, Muhammad Iqbal Khan at Central Jail Srinagar since 16 years, Muhammad Sidiq Gujar 17 years at Central Jail, Saim Ahmad Gojar at Central jail 16 years, Mehandiya Gojar at Central Jail Srinagar since 16 years, Ishfaq Ahmed Pal at Kotbalwal Jail since past 15 years, Dr Ghulam Muhammad Bhat at Tihar since eight years, Muhammad Aslam Wani at Tihar Jail sice 7 years, Masrat Alam Bhat since 25 years, Muzafar Ahmed Rather at Kotbalwal since 10 years, Bashir Ahmed Baba at Gujrat jail since 9 years , Muzzaffar Ahmed Dar in Tihar 11 years , Mohammad Shafi Shah in Tihar 9 years ,Dr Waseem in Tihar jail for 10 years, Mushtaq Ahmed Lone in Tihar for 6 years.
He said the health of all these prisoners keeps deterioting due to prolonged detention. Mirwaiz said that many of these prisoners are not even produced in courts for trial which is extremely inhuman and illegal.
Mirwaiz said that the state also uses its institutions like NIA and ED against leadership and activists to put them in jails without any evidence or on fake charges. He said that this year leadership and activists will complete two years in Tihar jail without trial.
The Kashmir's chief cleric urged the UNHRC, and other human rights organisations that include Asia watch, ICRC, Amnesty International to focus their attention on the grave misuse of state and military power against those with dissenting political beliefs and their inhuman treatment and prolonged detention in jails in Jammu and Kashmir.