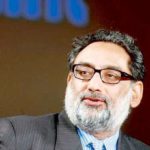 Srinagar: The two former legislators of Peoples Democratic Party (PDP), Altaf Bukhari and  Haseeb drabu met over a lunch in winter capital, Jammu.
While drabu had resigned from PDP, Bukhari was expelled from the party last week.
The meet comes at a time when speculations are rife that Bukhari might form a new front ahead of polls in the state.
"The two had a lunch in Jammu," a senior politcian told The Kashmir Press.
"The contents of the meeting are not yet known".
According to the sources, Bukhari is holding workers meet at his Srinagar residence on January 27 after which he is likely to announce his future programme. He was also in touch with National Conference, but nothing concrete has come out so far.
Even though Drabu has not spilled the beans about his future plans, he remains in touch with his voter base in Rajpora Pulwama.