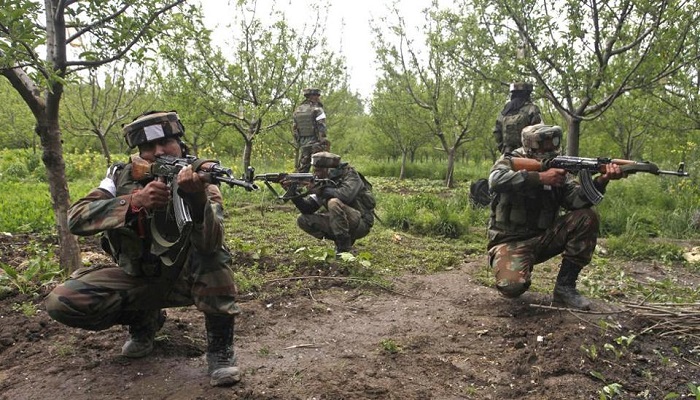 Srinagar: Four people sustained fire arm injuries after forces opened fire and pellets upon the youth who objected to the army's presence when the funeral prayers of the slain Al-badar commander, Zeenat-u-Islam located in Sugan Village of Shopian, were being offered
The health authorities at Pulwama district hospital told The Kashmir Press that four people with bullet and pellet injuries were brought to the health facility.
"Among them one boy has received bullet injury in the thigh while other had received it in the leg," health authorties said.
"One had received injury in head. It was not clear whether it was due to tear gas canister or bullet. The attendees with the patients were claiming it was due to bullet".
The fourth one, health authorities said, had received pellet injuries.
"All of them are stable," they said.
Local, however, said the boy who sustained injury in the head was in critical  condition.
Zeenat was killed with his associate Shakeel Ahmad in a gunfight with the government forces in Kathora area of south Kashmir's Kulgam district last evening.
Soon after his killing on Saturday evening, locals said the government forces including police and CRPF have sealed all the roads leading to the residence of Al-badar commander, Zeenat-ul-Islam located in Sugan village of Shopian district.
According to the locals, the forces even resorted to aerial firing to disperse the people gathered in Sugan-the native village of Zeenat- for offering the funeral prayers this morning.
"The army entered the Sugan village when people were offering Jinazah," local told The Kashmir Press.
"The local youth could not tolerate that. They responded by pelting stones on forces, triggering fierce clashes".
Afterwards, the army opened fire and pellets at the youth leaving four injured.
The locals added that it apparently seems that forces wanted to limit the number of people attending the funeral prayers of Zeenat.
However, they said, mourners continued to assemble in the village after making their way through orchards.