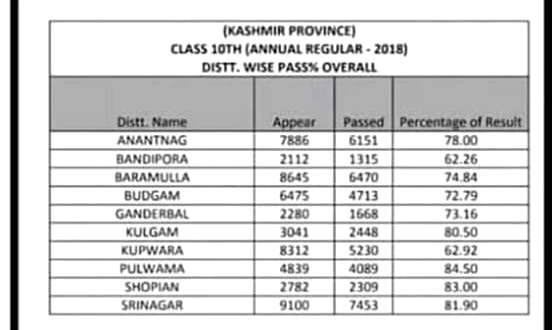 Srinagar: Despite strikes, curfews, daily bloodshed and gun battles, South Kashmir tops list of successful students who cleared their matriculate examinations in Kashmir.
A total of 84.50 percent students cleared the regular matriculate examination in Pulwama.
This is the highest number of percentage of successful matriculate candidates among the ten districts of Kashmir.
Other than encounters and killings, the Pulwama district has been witnessing regular strikes and protests which have led to the frequent closure of schools and other academic institutions.
Pulwama is followed by another volatile South Kashmir district, Shopian where the percentage of successful candidates was registered at 83 percent.
The percentage of successful student in central Kashmir's Srinagar stands at 81.90 percents.
This district is followed by south Kashmir's Kulgam where the percentage of successful students was registered at 80.50 percent.
The majority of South Kashmir's three districts- Pulwama, Shopian, Kulgam- have the highest number of local militant recruitment as well.
These districts have also registered ten percent above the overall average percentage of 75.38 of the successful students in matriculate examination.
Another south Kashmir's district Anantnag registered a total of 78 percent of successful student.