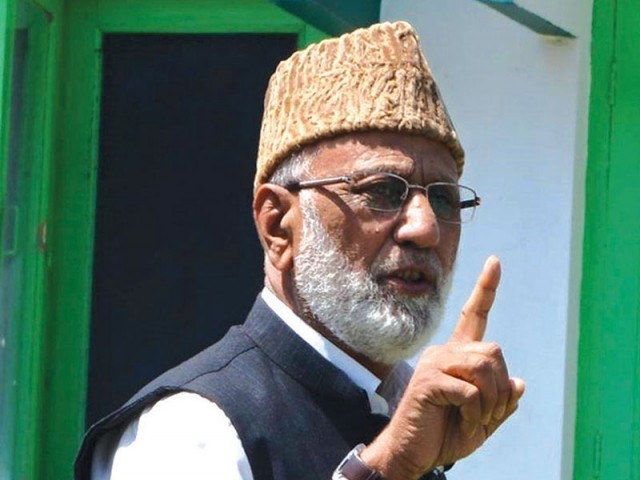 Srinagar: Tehreek-e-Hurriyat Chairman, Mohd Ashraf Sehrai described today's Pulwama incident as a "massacre" and condemned the use of deadly force against peaceful protesters.
Describing the move as a "serious escalation" that could lead to dangerous consequences, Sehrai in a statement issued to press termed the action as 'the worst kind of barbarism and brutality a human being can be subjected to'
"this new definition of Indian democracy where unarmed innocent civilians pumped with bullets and pellets should be a harsh slap on the face of those who still think Kashmir to be the integral part of India. I pay my salute to these martyrs," he said
"Our budding youth proved hollow credentials of Indian democracy. India tried their best to eradicate the emotions of people but people of Kashmir are still firm on the way of resistance," Sehrai said and reaffirmed that people will continue their struggle against occupation until liberty is achieved and appealed to global community to intervene and help in solving Kashmir dispute.
Lashing out at the authorities, Sehrai said that "from the past seven decades Indian forces' personnel were mercilessly killing people on one pretext or the other. The latest bloodbath on Saturday had proved that the authorities and the rulers had virtually turned occupied Kashmir into a slaughter house."
He said, exemplary valor, commitment and bravery of our brave hearts was an answer to those who claim that resistance among youth is the outcome of unemployment and economic problems.
Meanwhile, reacting on Mehbooba Mufti's statement wherein she said, 'the country cannot go back to 1947 and that there was need to find an alternative to the idea of 'Azad Kashmir' within the framework of the Indian constitution", Sehrai said, "The politics of extreme shame and opportunism played by these groups of people over the past 71 years has equally been the enemesis of the people of Kashmir as much as has been the forceful occupation by the India state who are not ready to acknowledge the sentiment of the Kashmiri nation".
"The Azadi camp is involved in a struggle about the political future and fate of 13 million people and Pro-India politicians in Kashmir are 'stooges of occupation therefore have no right to sermonizing on Kashmir issue," he said.
He said that as usual they are playing deceit. "They are not sincere, otherwise they would have disassociated from pro-Indian politics .They have no regard for their suffering community. They need to take care of their conscience," he said.
Sehrai in his statement said, "Boundaries are not sacrosanct and it is the will of people who live there that decides the destiny of that land. Has she no knowledge of history. Does she not know that the mighty British empire on which the sun never sets had to yield to the yearning for freedom of the people of the subcontinent and wherever it ruled by force. Does she really believe that a small but defiant nation constantly engaged in achieving its political aspirations and making tremendous sacrifices for that can be discouraged into pragmatism of cowardice and subjugation by her utterances."