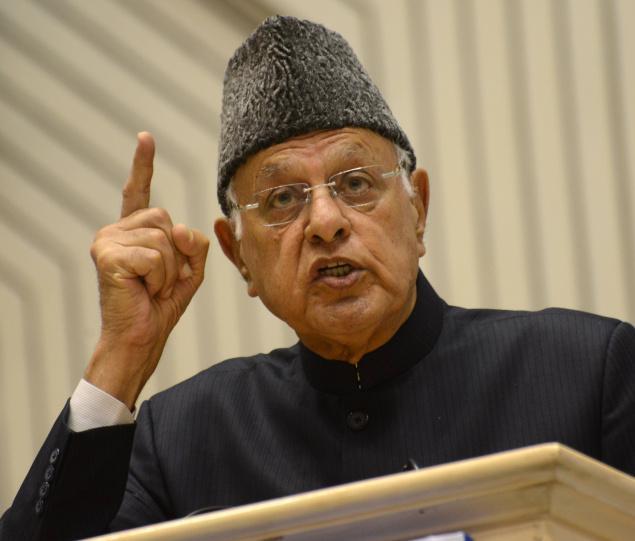 Srinagar: Reacting to the recent controversy over the J&K Bank, former Jammu and Kashmir Chief Minister Farooq Abdullah Wednesday said that the move to take over the institution was in pipeline for a long time.
"The moves to take over the J&K Bank have been in pipeline for a long time. They haven't succeeded till then but probably in the governor's rule they thought they will succeed," said Abdullah while talking to the reporters on the side-lines of a function marking 36th annual day of SKIMS at SKICC.
Abdullah said that there were plans to take over the bank when was the chief minister of the state.
"I think there was a design long time earlier when I was the CM and J&K Bank was working well. I remember then I was in the office of Home Minister L K Advani along with deputy chairman planning commission and they were saying the bank is not good it is going down and it should be taken over," claimed Abdullah.
Luckily, he said, a daily from Mumbai had published a complete report on this bank and showed how good it was.
"I sent those reports to them and I am glad that the deputy chairman planning commission spoke to me on the phone and said his information was wrong," he said.
Abdullah said that the autonomy of the bank should not be fiddled with.
"But any government that will come after governor's rule is over will have to look into this. Nothing should be done to the autonomy of JK bank," he said.
Earlier, in his speech, Abdullah said that time has come for the resolution of Kashmir issue.
"I see a change between the Indian and Pakistani leaders…I am quite confident that time has come and that is why probably God has kept me alive to see solution emerging to this problem of our state and I hope we have peace which we all want," he said.
Abdullah said that he wanted to walk freely without any security in the valley.
"I want to walk freely without any security. My daughters and my friends and my colleagues and people in this ate could work without any tragedy. I hope it will happen and I hope you all will pray for this that we have that situation," said Abdullah.