Srinagar: Continuing with its 'Drugs Out, Sports In' initiative, the Jammu and Kashmir Academy of Unified Martial Arts (JKAUMA) on Tuesday organised a seminar in a private school in north Kashmir to create awareness about the menace of drugs and promote healthy living through Martial arts.
The seminar was held at Valley Public High School in the apple township of Sopore in north Kashmir district of Baramulla, where JKAUMA speakers and international martial art players interacted with students and informed them about the ill effects of drug addiction and how to resist and overcome this menace.
During this seminar, the academy also promoted self defence training for girls and women, besides laid emphasis on the rising number of mental health issues in Kashmir valley.
Many dignitaries, Zonal Educational Officer (ZEO), Sopore, Kulsum, Department of Education, Jammu and Kashmir, Fayaz Ahmad Fayaz, famous Kashmiri poetess Rumuz, Valley Public High School Chairman Junaid Ahmad, Principal G M Dar, besides national and international martial art players from JKAUMA, participated in the event.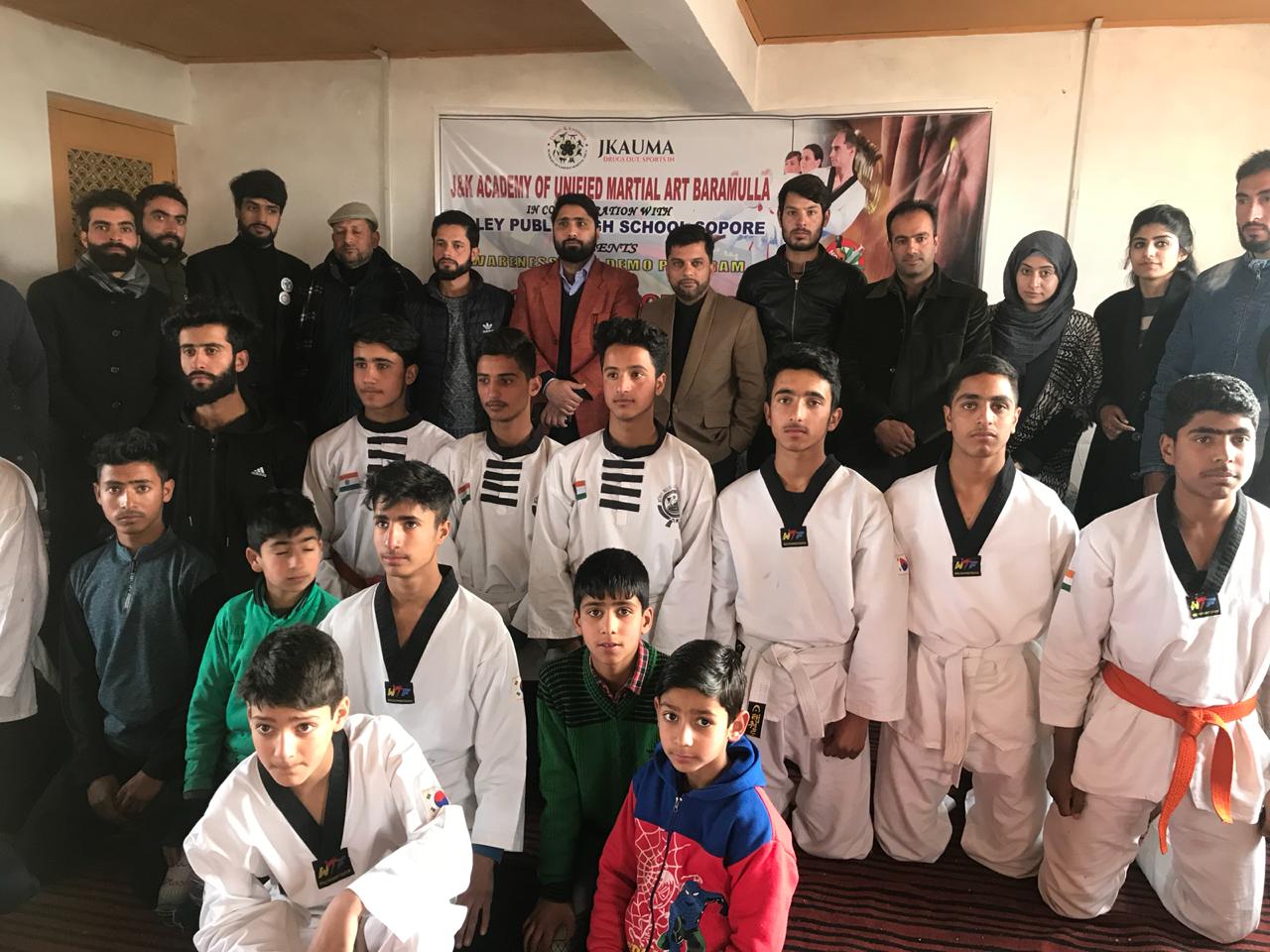 "One of the major problems in drug de-addiction is relapse, because the victims are unable to locate any constructive platform which can engage them positively. JKAUMA spearheading it's missing intends to fill that vacuum by bringing in martial arts which not only focuses on physical development, but strengthening the mental facilities of a person," JKAUMA district secretary for Baramulla, Sujad Wani, said.
Many martial arts demonstrations, including self defence tips to girls, were given during the seminar. Appreciating the initiative take by JKAUMA to counter drug addiction through martial arts, Mrs Kulsum said more such events should be held so that students, particularly from government schools, could benefit from such activities.
Meanwhile, highlighting the importance of sports, Mr Fayaz said children, if guided properly, can become a tool by which all the evils of the society could be eradicated.
According to a report published by United Nation Drugs Control Programme (UNDCP), over 70000 people in Kashmir valley are drug addicts. The report further states that these addicts belong to 17 to 35 age group.
Interacting with students, Hafsa, who is a national player and has won several medals in Taekwondo and other forms of martial arts, said self defence is as important as quality education for a student, particularly girls. "The current atmosphere in the country, including the state, is as such that self defence should be made mandatory in all schools for girls. If a girl or a woman is well versed with self defence techniques, she can not only protect herself, but others as well," she told a group of girl students.
Rameez Khan, General Secretary JKAUMA said that the academy is trying to do its parts to create awareness about the drug abuse and promote healthy living in the state through martial arts. "This is the second seminar which we have conducted in Baramulla district. Prior to this, we organized a similar seminar at SSM College of Engineering, Pattan on November 10," he said.
He said the JKAUMA will be organising similar seminars in others schools, colleges and universities in the state to spread awareness about these issues. "The academy also intends to encourage girls and women to take up martial arts defend themselves and their families," adding JKAUMA is running from a centre in Natipora, where they provide training to school children, including girls, and now women are also showing interest in learning martial arts.