Srinagar: The Congress Party along with two major regional powers of Jammu and Kashmir – People's Democratic Party (PDP) and National Conference (NC) are likely to meet officially this week and discuss the possibility of meeting the governor to stake claim to form a government, New Delhi based The Wire reported on Wednesday.
Political leaders from the three parties have said their leaders have held week-long "informal meetings" to chalk out a strategy to form a government. A senior Congress leader told The Wire that the parties also discussed the possibility of the "Centre not dissolving the state assembly and avoiding fresh elections".
Other key agendas of the said meetings include important roles taken up by key leaders of the three parties – both before and after the possible government formation.
"We have had several informal meetings with the two parties (NC and PDP) this week and there are many reasons for this. The governor has hinted at keeping a status quo, which means he will not dissolve the assembly and keep it in an animated state, thus avoiding a fresh election. President's rule will be imposed soon and it would have been ideal to dissolve the assembly but this has not happened. Instead, the BJP is attempting to break regional political parties and form a new alliance," the leader said.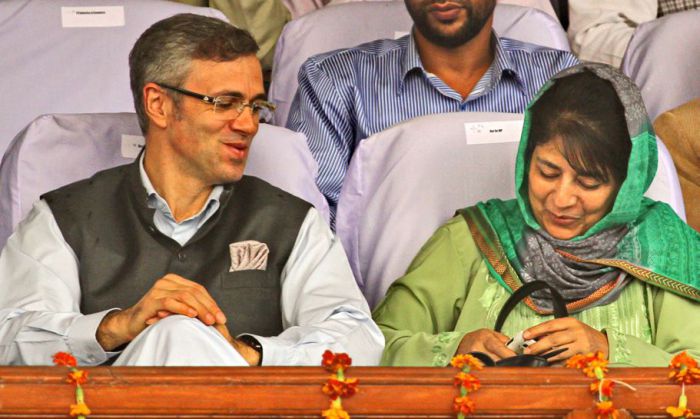 A senior political leader from the PDP said on the condition of anonymity that the chief ministerial face of the "grand alliance" has not been decided upon yet. The priority, for now, is a "new government representing a grand alliance".
The PDP has 28 MLAs, followed by NC with 15 and Congress with 12 which will take the alliance well above the majority mark of 44.
"The Congress Party is in no rush to form a new government. We have struggled for last four years and will continue to do so but we will also not stand by while BJP tries back channels to form a new government which does not have the mandate of the people," said J&K Pradesh Congress Committee president G.A. Mir. He added that the possibility of a formal meeting will be decided by the two major parties this week.
"We have 12 seats while PDP and NC have 28 and 15 respectively. If the decision to meet formally today or tomorrow will come, we will oblige," Mir added.
Senior leaders from the three parties also said that the move to form a new government is meant to halt the march of Sajjad Gani Lone, separatist-turned-mainstream-politician who shares a cosy relationship with the BJP.
On Tuesday, Muzaffar Beigh, one of PDP's founding members and Lok Sabha MP from Baramulla, held a press conference throwing his weight behind the so-called third front.
He said he would "seriously consider" joining a third front led by Lone.