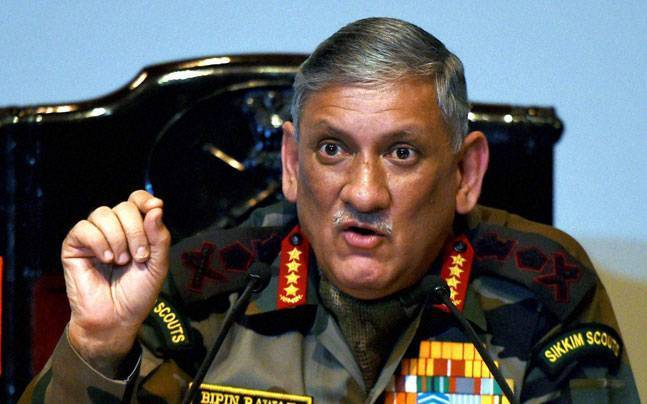 Srinagar: Indian Army Chief General Bipin Rawat on Monday warned the youngsters who join militant organisations, saying that they should either return or the Army would neutralise them.
Appealing to the militant 'recruits', the Army chief said that that had the opportunity to surrender and give up guns.
"It is not worth joining militancy because you will not live long. We are giving you an opportunity to surrender and give up guns. If people do not behave and continue the violence, the only element left is to neutralise them," the Army Chief said on Monday.
He made the comments while addressing a gathering of senior Army officer, defence experts and former senior officials of government and police at a function titled 'Changing Contours of Internal Security in India: Trends and Responses'.
When asked to comment on former Jammu and Kashmir chief minister Omar Abdullah's criticism over the government's failure to engage with "non-mainstream" stakeholders in the state, Army Chief General Rawat ruled out direct talks between the Centre and militants. However, he urged Kashmiri separatists to hold talks with the government's interlocutor, Dineshwar Sharma, who has been tasked to hold conversations with all stakeholders in the state. India will continue to maintain security in the Indo-Pacific region, says Army Chief General Bipin Rawat
He added that the government could not do much if the Kashmiri separatists chose not to hold parleys with the interlocutor and be open to negotiations. He said, "Interlocutor is talking to people; he is open to anybody who wants to speak to him. We're doing indirect talks, if they (separatists) don't want to talk, what can we do? The head of the state isn't going to talk to the militants; it's not going to happen."