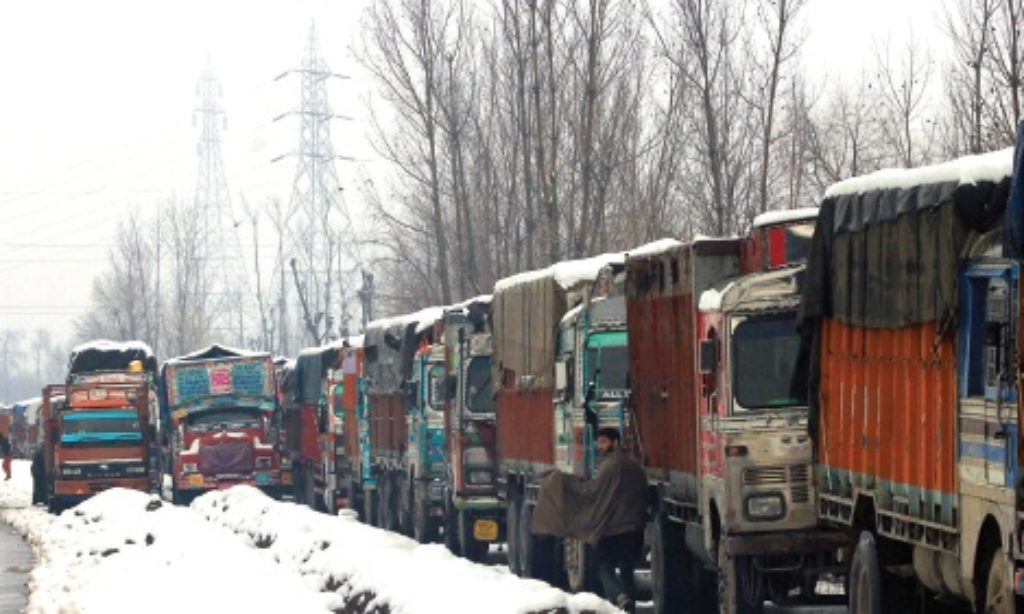 Srinagar: Dozens of orchardists of south Kashmir on Thursday said that their trucks loaded with apples that left Kashmir four days ago are still stuck in the traffic on Kashmir highway after the untimely snowfall.
The orchardists appealed the government authorities and the traffic police to allow fruit laden trucks move towards Jammu on a priority basis as else the fruit will rot.
"Dozens of fruit-laden vehicles are stuck on the highway at many places. The authorities should first clear the fruit-laden truck," a fruit grower from Shopian told The Kashmir Press.
He said that there is every chance that if the trucks are not allowed to move ahead now, the fruit will rot and will add to the already ballooned losses of the growers.
Meanwhile, authorities on Thursday allowed one-way traffic on Kashmir highway from Srinagar to Jammu. 
IGP Traffic Jammu and Kashmir Basant Rath told The Kashmir Press that he has prioritized movement of fruit-laden trucks that were stuck on the highway.
"We cleared the trucks stuck on this side of the tunnel yesterday. There was some problem on Banihal side and today that has also been cleared," he said.