Srinagar: Hurriyat Conference (M) chairperson Mirwaiz Umar Farooq on Friday said that holding of elections (panchayat or Indian parliament) have lost all value.
He said it is an exercise in futility, as the essence of this process lies first in the establishment of democratic principles and institutions. "Neither are any democratic principles followed in Jammu and Kashmir nor have any democratic institutions been allowed to flourish, instead the reverse has taken place by the use of extreme arbitrary force and authoritarianism."
Mirwaiz, while addressing a Friday congregation at Jamia Masjid in Srinagar, said that any electoral process in such a place becomes a mere eye wash and a means to propagate to outsiders that things are under control and getting   "normal" and as an endorsement of Government of India's rule. "So people will resist it and stay away from it while observing a complete shutdown in protest in accordance with the programme already given by JRL."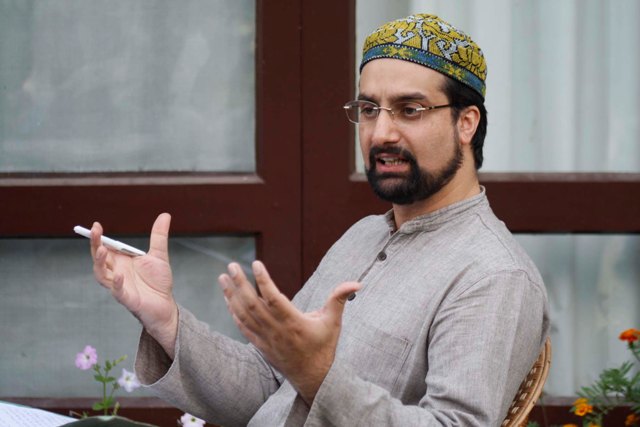 Mirwaiz the Kashmir chief priest said that the basic issue of resolution of the Kashmir dispute is today more alive, more urgent and more dangerous than ever. "Each generation of Kashmiri's since 1947 has persuaded for its resolution to put an end to the uncertainty and distress that arises for them because of it."
He said that the fourth generation of Kashmiri's born and raised under "severe occupation" are so desperate to end it even at the cost of sacrificing their lives.
"Recreational facilities and cricket fields are no substitute to repression. Neither efforts at creating disillusionment about it. Seventy years of people's relentless struggle has proved that."
Mirwaiz said that the only way out is accepting the basic problem and addressing it head on. "Right of self-determination is the most democratic and simple way to resolve it. Alternative method of dialogue among stakeholders is also available. Both are reasonable means of conflict resolution and of ensuring peace and prosperity for all in the region that can result as a consequence of it."
After Friday prayers the Hurriyat activists staged a protest outside Jama Masjid against the arrest spree of Hurriyat leaders, activists and youth across Kashmir while rejecting the elections.