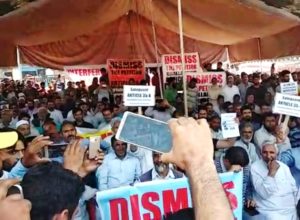 Srinagar: Curfew-like restrictions have been imposed in downtown and parts of civil lines in the summer capital, Srinagar as a precautionary measure to prevent any untoward incident following a two-day strike called by separatists against any move to weaken the Article 35 A of the Constitution.
About six petitions have been filed in the Supreme Court, demanding scrapping of the Article. However, mainstream political parties, including National Conference (NC), Peoples Democratic Party (PDP), Communist Party of India (M), Kashmir Bar Association, traders and civil society, have filed counter petitions demanding continuation of the Article.
The Joint Resistance Leadership (JRL), comprising Syed Ali Shah Geelani, Mirwaiz Moulvi Omar Farooq and Mohammad Yaseen Malik, has called for a general strike from today. The petitions challenging the Article will come up in the Supreme Court tomorrow.
All gates of historic Jamia Masjid in the downtown were closed since early this morning to prevent people from entering there.
To prevent any law and order problem, restrictions under Section 144 CrPC have been imposed in the areas falling under the jurisdiction of police station Safa Kadal, M R Gunj, Khanyar, Nowhatta and Rainawari. Similar restrictions have been imposed in parts of areas under the jurisdiction of police station Kralkhud and Maisuma, police said.
However, the situation on the ground was entirely different as hundreds of force's personnel had been deployed to strictly implement the restrictions. Repeated announcements were being made directing people to remain indoors as curfew has been imposed since early this morning.
The main Nallahmar road from Chattabal to Khanyar has been closed for any traffic or pedestrian movement. Security forces have closed the road with barbed wire and by parking bullet proof vehicles in the middle at Nawa Kadal, Rajouri Kadal, Bohri Kadal and Khanyar.
However, the main road to S K Institute of Medical Sciences (SKIMS) was open though only patients and medical staff were being allowed after property checking their identity cards and other documents.
All roads leading to historic Jamia Masjid, stronghold of chairman of Hurriyat Conference (M) Mirwaiz Omar were closed at Nowhatta, Gojwara and Rangar stop. Even the media persons were asked to take alternative routes to reach the worship place. Similar restrictions have also been imposed in Rainawari, Mallakha and Kathidarwaza crossing.
Additional forces have been deployed in the areas under police station Maisuma in the civil lines and Kralkhud in the old city. Paramilitary forces and state police personnel have been deployed in strength on Moulana Azad road, being used by VIPs, including Governor, his advisors and top bureaucrats to reach civil secretariat, seat of the government.
Forces have also been put under alert elsewhere in the city to prevent any demonstration.