Srinagar:  Tensions erupted in Kashmir after a pan India news agency said that the Supreme court will take a final call on Article 35A today. Much before the wire agency would clarify protest broke and instant shutdowns happened.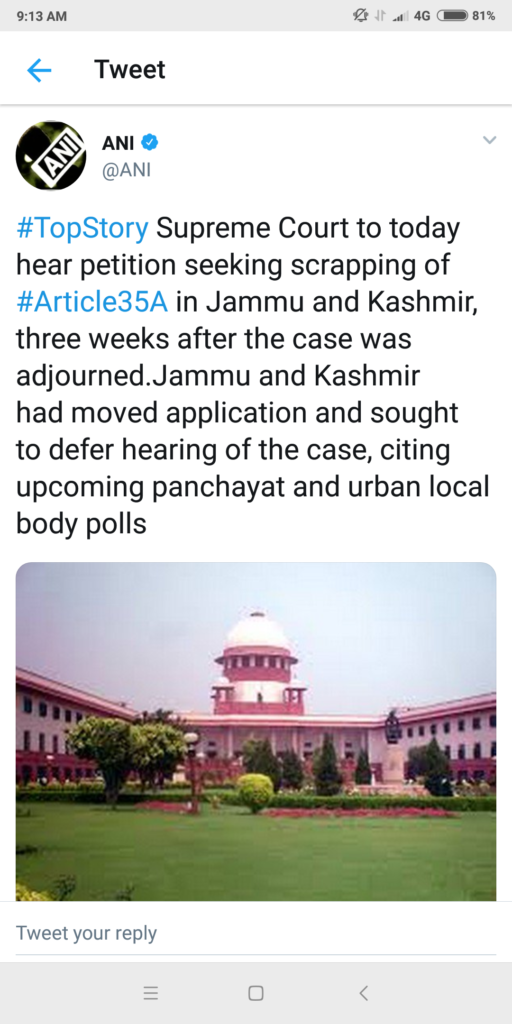 LP
Soon news spread like wild fire and valley abruptly came to halt.
Protests erupted, youth clashed with police and chaos happened all over.
Clashes erupted in Jehangir chowk, anantnag, kulgam.
"It's still a mess and chaos in government offices. Employees are on toes," a government official said.
Police quickly came in to inform people to stay calm as things are not confirm and should not heed to rumours.
But the valley was already on boil.
Mirwaiz Kumar Farooq, part of Joint resistance leadership tweeted asking people to not go by rumour mongering.
As the valley and parts are still shut the news agency clarified later that only a fresh petition on the issue will be heard for admission only.
"Confusion is being created among people about the hearing of case pertaining to Article 35A in the Indian Supreme Court for today. In this regard, what has been reported in media, is that a fresh case has been filed challenging Article 35A in SC. This has nothing to do with," Mirwaiz said in a tweet.
"The original case pending in SC which is listed for 31st, though the exact date would be made public on Tuesday. Most likely this new case may also be clubbed with the petitions filed by RSS backed NGOs and individuals," he said.
Clashes are still going on in Anantnag .
All chowk too is still shut.