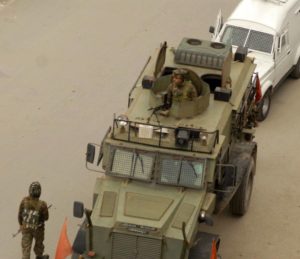 By Salaar Khan
Shopian: Five militants were killed in an encounter with government forces in South Kashmir's  Kiloora area of Shopian, on Saturday.
Witnesses said one militant was killed after brief exchange of fire on Friday night.
"4 more bodies of (militants) visible at encounter site kiloora Shopian taking the total to 5 (militants) killed," Director General of Police S P Vaid wrote  in a tweet.
The authorities also snapped internet in the entire south Kashmir district.
Giving details, the police said forces launched searches in Kiloora area after it was able to track a group of militants  in the area.
"During the search, terrorist hiding inside a house fired on the search party. The fire was retaliated thereby establishing contact with the terrorists leading to an encounter," the police said.
The police said during encounter, five militants were killed.
The police also said that initially it came across that one civilian had lost his life in cross firing but subsequent investigation confirmed that no such civilian death had occurred and reports pertaining to the civilian death were inaccurate.
"Pertinently the encounter later took place in an open area as the hiding terrorists, taking advantage of darkness came out of the house and fired indiscriminately on security forces," police said.
Arms and ammunition were also seized from the site of encounter, police said.
Meanwhile, four of the five militants killed in the Shopian encounter have  been identified and all belong to south Kashmir.
Four militants have  been identified as
Ajaz ahmad Paul S/O Ab Rasheed Paul R/O losedanow
Umar Nazir malikh S/O Nazir Ahmad MalikhR/O Malikhgund
Waqar Aslam shiekh S/o Mohd Aslam shiekh R/oMalikhgund
Arshad khan R/O Ganowporar
The identity of the fifth militant is being ascertained.
Soon after the encounter, clashes broke out between the forces and the youth during which dozens have been injured, one among whom one has been shifted to Srinagar, with bullet injury.