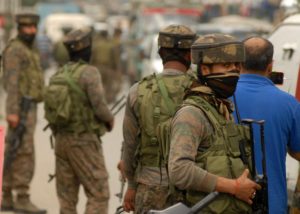 Srinagar: After the imposition of governor rule, 25 persons were killed during militancy related incidents in Jammu and Kashmir, Minister of State for Home Affairs, Hansraj Gangaram Ahir said.
Giving the details regarding number of militant and loss of lives after the imposition of central rule, Ahir stated that 14 militants, 08 government forces personnel and 03 civilians were killed in various militancy related incidents in Jammu and Kashmir.
He also said that a total of 39 militancy related incidents were registered in the state after the imposition of Governors rule.
In a written reply in the Lok Sabha, Ahir stated that governor rule was imposed in the state on June 20 in exercise of the powers conferred by section 92 of the constitution of Jammu and Kashmir and, with the concurrence of President of India, issued a proclamation inter alia assuming to himself all the functions of the Government of the State of Jammu and Kashmir.
"176 persons have been arrested for pelting of stones since proclamation dated 20.6.2018," he stated.