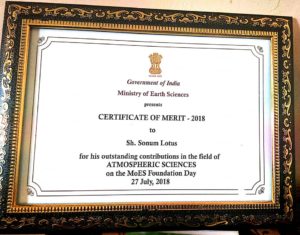 Srinagar: Weatherman Sonam Lotus has bagged the best employee award from the ministry of earth sciences, Government of India (GOI), in recognition of his services as a meteorologist in Jammu and Kashmir.
"I thank you all for showering your appreciation and wishing me on bagging the Best Employee Award of d Ministry of Earth Sciences, Govt. Of India in recognition of my service as a meteorologist to the govt. and d people of Jammu, Kashmir n Ladakh," Lotus wrote on a social media site Facebook.
The award consists of a citation, a trophy and a cash prize of Rupees 50,000.
He said that he will share the award money for a better and a safer world.
"I believe that, being partners in our endeavors for a better and safer world, I would like to share the prize money, however small it may be, with my colleagues n the people of d state, bcoz they are equal partner in our work, one way or d other," he stated.
"Rs. 10,000 for Cancer Society of Kashmir
Rs. 10,000 for Shri Onkar Singh Memorial Trust, Jammu
Rs. 10,000 with Ladakh Medical Society of Dr. Tashi Thinlas, Sh. Tashi Angchuk n co.
Rs. 10,000 with my colleagues.
It is my moral responsibility to give back to society who shaped d man I am today.
Thank you IMD n d people of Jmu, Kmr n Ladakh".