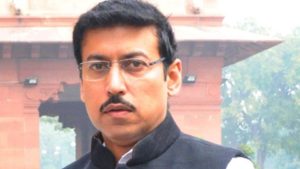 New Delhi: Minister of State (Independent Charge) for Youth Affairs and Sports Col. Rajyavardhan Rathore has said that government has earmarked 194.63 crore rupees for development of sports infrastructure in Jammu and Kashmir.
"Under Prime Minister's Development Package (PMDP) for enhancement of sports facilities in J&K Rs.194.63 crore has been earmarked for development of sports infrastructure in Jammu & Kashmir," Rathore said in a written reply to a question in Lok Sabha.
The Minister said that the government is also implementing a central sector scheme, namely, Khelo India which has components for utilization and creation/upgradation of Sports Infrastructure.
"The indicative outlay for non-recurring component, as per the approved scheme, is Rs.530 crore spread over 2017-18, 2018-19 and 2019-20," he stated.
He said the government was providing financial assistance to recognized National Sports Federations (NSFs), Regional Sports Federations (RSFs) and National Sports Promotion Organisations (NSPOs) as per the norms of the Scheme of Assistance to NSFs.
Rathore said government has given annual recognition to 53 NSFs for the year 2018.
"In addition, Government has recognised 2 RSFs and 5 NSPOs," he stated.