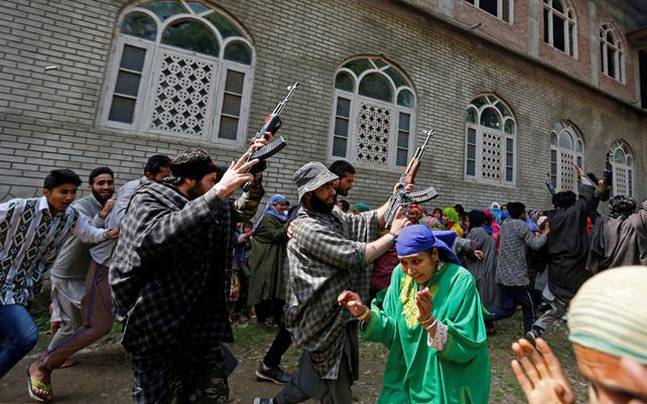 Srinagar: After the termination of 'Ramzaan ceasefire' announced by the Government of India (GOI), there has been a spike in the recruitment of local youths by militant groups in Kashmir, The Indian Express reported.
In its report, the newspaper quoting the data compiled by J&K's Multi-Agency Centre (MAC), stated that the month of June saw 27 youths from the Valley — mainly from the districts of Shopian, Pulwama, Anantnag and Kulgam in South Kashmir — joining militancy.
"The increase in the number of local youths picking the gun last month came after June 16, which was Eid, when the ceasefire ended and the security forces decided to undertake operations," Indian express quoted a Srinagar-based security official as saying.
The report stated that in the month of April 28 youth joined militancy- an all times high while as the recruitment in the Valley had dropped to 14 in May.
"The data (till June-end) shows that 82 local youths have joined militancy since the beginning of the year, raising fears in the security establishment that this could be the worst year ever in terms of local recruitment of militants in the Valley. In 2017, 128 local youths were reported to have joined militancy, up from 84 in 2016, 83 in 2015 and 63 in 2014," the newspaper stated.
"Of the 82 who joined militancy this year, 38 joined the Hizbul Mujahideen, 18 joined the Lashkar-e-Taiba and 19 joined the Jaish-e-Mohammad".
The newspaper report quoting security officials stated that the spike in April followed the Army's operation on April 1, when 13 militants were killed in the Valley.
"Their funerals, said security officials, led to a fresh wave of recruitment of local youths into militancy," the report claimed.
"Security officials in Srinagar told The Indian Express that the data is a cause for concern as it shows the need for increased efforts at deradicalisation, to wean away the youth from picking the gun".
Quoting an army officer based in South Kashmir, the newspaper reported that there were more local youths willing to join militancy than there are guns available.
"They try to snatch weapons from police and become a militant. It is not a healthy situation," said the Army officer.