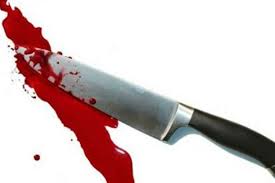 Srinagar: A lady sustained critical injuries and later died after she was stabbed by unknown armed man in north Kashmir's Hajin area of Bandipora district.
Peoples Democratic Party (PDP) worker Abdul Majeed Dar, a resident of Shahgund Sumbal, said that an armed man managed to sneak into his house where he undertook his son hostage.
"As I started offering prayers, the man put a pistol on my head and asked me why I am in the politics. I explained to him that I am helping people and have done nothing wrong," Dar said.
Suddenly, he said the armed man ordered him to unlock the Almirah as he told since he thought Dar has hidden arms and ammunitions there.
"After unlocking the locker, the man took Rupees 3 lakhs and the jewellery of my daughter. His action stunned me and I thought he is a dacoit and not a militant. When I objected, he suddenly attacked my wife with a knife," Dar said.
Police sources said the incident happened around 10.45 pm on Sunday when three youth barged into the house of PDP worker.
They were looking for Dar, apparently with the intention to kidnap him, police sources said.
"His wife Shakeela came in between to rescue her husband who was hiding somewhere in the house," official sources said.
"The attackers became furious and attacked Shakeela Begum with knives injuring her grievously," said an official.
"Shakeela, 45, was then shifted to Hajin hospital where from she was referred to Srinagar,".
"She had serious injuries in her abdomen and neck. She was declared brought dead by doctors at JVC Bemina. We have registered a case and investigation has been taken up," police added. (Current News Service)