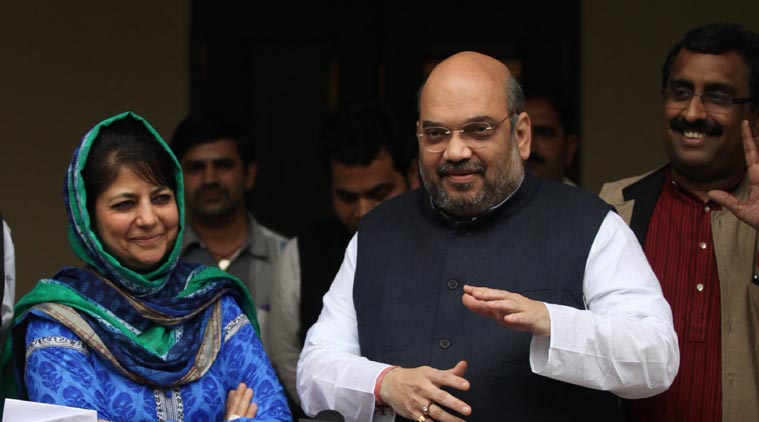 Srinagar: In a hard hitting statement, former Chief Minister and President of Peoples Democratic Party (PDP), Mehbooba Mufti has said that the ruling coalition's working document- the Agenda of Alliance (AoA)- was fully endorsed by the top leadership of Bhartiya Janta Party (BJP) and as such there was no question of discrimination arising with Ladakh and Jammu .
"Many false charges levelled against us by our former allies. Our commitment to the Agenda of Alliance, co-authored by Ram Madhav & endorsed by senior leaders like Rajnath Ji never wavered. It is sad to see them disown their own initiative & label it a 'soft approach," Mufti wrote in a tweet.
She was responding to the statements of BJP chief Amith Shah in a Jammu rally on Saturday, who claimed that the PDP-led state government had discriminated against Jammu and Ladakh, though the federal government had sent plenty of funds.
While attacking both the National Conference and the PDP, Shah said that the two families had ruled the state for years and had engaged in massive corruption. He also signalled that governor's rule will remain enforced in the Valley.
Mehbooa said that status quo on Article 370, dialogue with Pakistan and Hurriyat were a part of AoA.
"Encouraging dialogue, withdrawing cases against stone pelters & the unilateral ceasefire were much needed measures to restore confidence on the ground. This was recognized & endorsed by BJP."
On charges of discrimination in development, Mehbooba said;
"Allegations of discrimination against Jammu & Ladakh have no basis in reality. Yes, the valley has been in turmoil for a long time & the floods of 2014 were a setback, therefore needed focused attention. But that does not mean that there was any less development elsewhere."
Advising BJP to review the performance of its own ministers, former CM said, "Results on the ground for all to see. If anything they should review the performance of their own ministers, who largely represented the Jammu region if there were any such concerns, none among them either at state or central level talked about it during the last 3 years."
On Kathua minor rape and murder case, she said, "Not handing over the Rasana rape & murder case to CBI, getting the pro rapist ministers removed & also issuing orders not to harass the Gujjar & Bakarwal community in the guise of anti encroachment drives were my duties as CM to provide a sense of security to both communities."
On Lal Singh's warning to Kashmir media, She said "After expressing concern about freedom of expression in J&K following Shujaat's murder, their MLA, notorious & even punished for his role in the aftermath of the unfortunate Kathua case still threatens journalists belonging to the valley, so what are they going to do about him?."