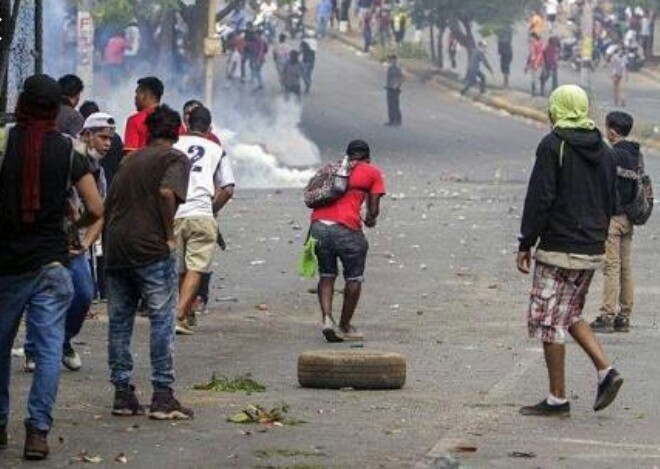 Srinagar: At least thirteen persons were injured, one among them suffered bullet wound, in government forces action during separate clashes at Darumdore area of Shopian and Hajin area of Bandipora district on Saturday.
Official sources told a local news gathering agency Global News Service on Saturday afternoon, a joint team of army, SOG and CRPF laid a cordon at Darumdore in southern Shopian district.
Soon after the joint team of forces launched the anti-militancy operation at Darumdore village, scores of youth took to streets and pelted rocks on them which resulted into the clashes, they said.
The forces resorted to pellet and bullet firing besides using tear-smoke shells to disperse the protesters, they said.
In the incident, a youth namely Jehangir Ahmad Lone son of Bashir Ahmad Lone of Ashpora Shopian was injured after hit with a bullet and at least seven other persons suffered injuries due to pellets and tear smoke shells in the forces action, they said.
Sources said that as the forces intensified the combing operation in the village, authorities have suspended the internet service in the district.
Meanwhile, sources said that the forces fired some warning shots towards the suspected spot, however, there was no response from the other side. Sources said that militants have managed to escape even as there was no official confirmation.
In another incident, stone-pelting clashes erupted at Tawheedabad area of Hajin in northern Bandipora district on Saturday afternoon soon after a joint team of army, SOG and CRPF launched searches to trace out the militants in the area, they said.
The forces used tear smoke shells and pellet guns to disperse the protesters, they said.
A youth namely Naseer Ahmad Parray of Parray Mohalla suffered injuries after a shell fired by forces hit his hand. Besides, Naseer, four other youths also suffered injuries due to pellets or tear smoke shells. (GNS)