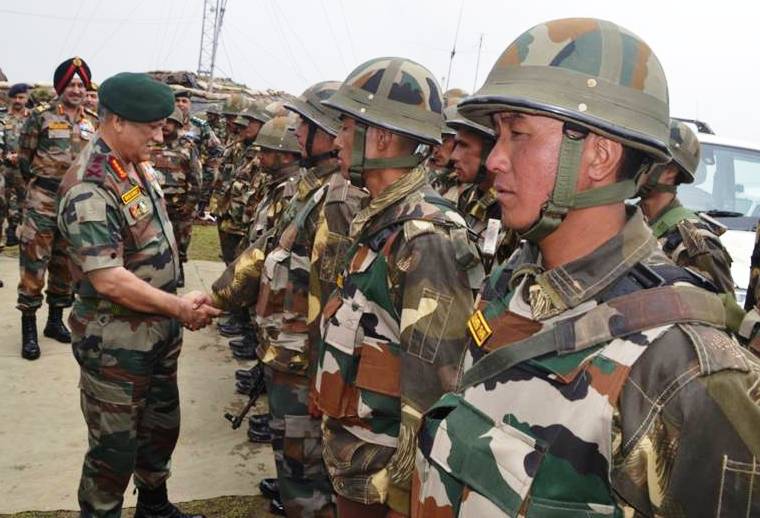 Srinagar: After the fall of PDP-BJP coalition government and subsequent imposition of governor's rule in the state, Army chief Bipin Rawat visited Kashmir and reviewed the overall security situation.
"He reviewed the prevailing security situation along the Line of Control and also in the hinterland," defence spokesperson said in a statement.
Spokesperson said army chief was accompanied by the Northern army commander Lt Gen Ranbir Singh and the Chinar corps commander Lt Gen AK Bhatt.
"Army Chief visited forward posts along the Line of Control in the frontier districts of Kupwara and Baramulla where he was briefed on all aspects of operational and logistical preparedness," the spokesman stated.
Spokesman stated that the Army Chief was appreciative of the measures and Standard Operating Procedures instituted by the units and formations to meet the challenges posed by the inimical elements.
"Commending the performance of the troops in the recent successful operations, the Army Chief stressed the need to maintain the extra vigil to defeat the evil designs of hostile forces and assured his full support to further strengthen the security posture," defence spokesperson added.
The army Chief has visited Kashmir amid calls to deal firmly with militants operating in Kashmir.
Even BJP blamed the worsening security situation and increased militant attacks as a reason to pull out support from the PDP.
The BJP claimed that the PDP being a local party had issues while dealing with local militancy through iron fist approach, adding, keeping in view the national interest they broke away from the government and their 'courageous' step would enable army and other forces to deal with militancy effectively.
Meanwhile army chief also met Governor NN Vohra at the Raj Bhavan.
During their extended discussions, the government said Governor and Army Chief discussed issues relating to the "external security environment, challenges of counter terrorist operations in the hinterland and the arrangements which have been put on the ground for the safe conduct of forthcoming Shri Amarnathji Yatra".
Governor and Army Chief also discussed the varied steps required to be taken for assuring a stable and bright future for the youth of the State.