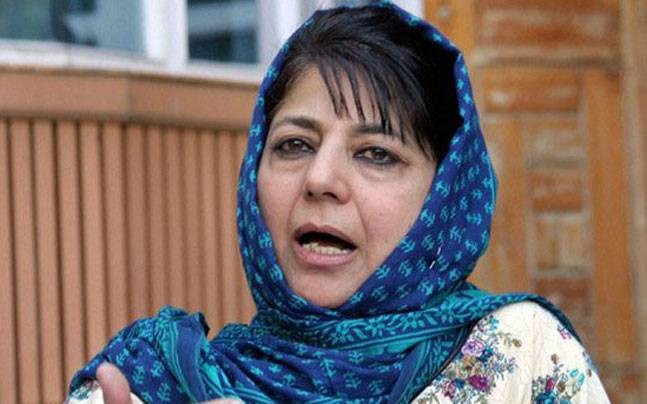 Srinagar: Former Chief Minister and President of Peoples Democratic Party (PDP), Mehbooba Mufti said that 'muscular policy will not work in Kashmir'.
In the aftermath of BJP pulling out from the ruling coalition,  Mehbooba convened a presser and said that the muscular policy cannot work in Jammu and Kashmir and it was due to this reason that a unilateral ceasefire was announced.
"We implemented a ceasefire, but unfortunately the response wasn't appropriate, the agenda of healing touch of PDP will work here," visibly angry looking Mehbooba lamented.
Mehbooba was referring to iron fist policy adopted by Delhi to curb militancy and stone pelting in the state which  led to widespread bloodshed.
Despite using force, the government remained either to stop new militant recruits, or stop stone pelting and protests in Kashmir from past three years.
She, however, said that PDP would continue to try to maintain dialogue and reconciliation in the future
Mehbooba said that the PDP had entered a coalition for the unification of three regions of Kashmir.
She also thanked PDP workers saying they stood the ground despite facing tough times
While counting her party's achievements, Mehbooba said that she was not shocked after its coalition partner pulled out from the government.
She said the alliance was not formed for power but achieving bigger goals.
"The alliance was formed because the two parties shared a grand vision," Mehbooba said who was flanked by senior party leader, Nayeem Akhtar.
She said that it took the party months to form an alliance with the prime focus on healing touch and dialogue.
The former chief minister said that she had presented her resignation to the governor, adding, she was not interested to form any alliances in order to stay in power.
Mehbooba said that the party undertook many measures during her tenure in power to improve the situation in the state.
She said that the party had not allowed any dilution to article 370, "We safeguarded the article 370 and ensured release of 11 thousand stone pelters," she said, adding, that the government was able to deal well with cow vigilantism in Jammu and that the case of Asifa- a nine year old Kathua girl who was raped and murdered- was well handled despite involving intricacies
The BJP pulled out of the ruling coalition with PDP after it stated that "taking into account, sovereignty and integrity of our country, we have decided to part ways".
"It has become untenable for BJP to continue in the alliance govt in JK," Madhav said while announcing that they have dumped the PDP.