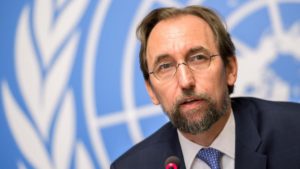 Geneva: UN High Commissioner for Human Rights Zeid Ra'ad Al Hussein has once again reiterated for establishing a international commission to investigate human rights situation in Jammu and Kashmir.
"I encourage the Council to consider establishing a Commission of Inquiry for a more comprehensive investigation of the human rights situation in Kashmir, and reiterate my calls for access," Hussein said in an opening statement while giving global update of human rights concerns at 38th session of the Human Rights Council.
"I have sought to engage substantively with both India and Pakistan over the past two years regarding the situation in Kashmir, on both sides of the Line of Control.  Refusals by both India and Pakistan to enable unconditional access have led us to conduct remote monitoring, with a first report issued last week," he said.
Last week, UN human rights council has released a report, "Indian-Administered Jammu and Kashmir from June 2016 to April 2018, and general human rights concerns in Azad Jammu and Kashmir and Baltistan".
The damning UN report has levelled serious charges of human rights abuse against the Indian state, calling for establishing a commission of inquiry to investigate the rights violation committed by the Indian forces in the region.
Hussein also said he was saddened by the assassination of Journalist Shujaat Bukhari.
"I am tremendously saddened by the assassination last week of Shujaat Bukhari, a courageous human rights defender actively working for peace, including through his participation in the Track Two diplomacy seeking to help both India and Pakistan put an end to the violence," he said.
Bukhari was brutally murdered along with his two police guard in Srinagar's Press Colony last Friday.
The UN commissioner also appealed the UN rights commission "to do more, to speak louder and work harder for the common purpose and for universal human rights law, to better our chances for a global peace".