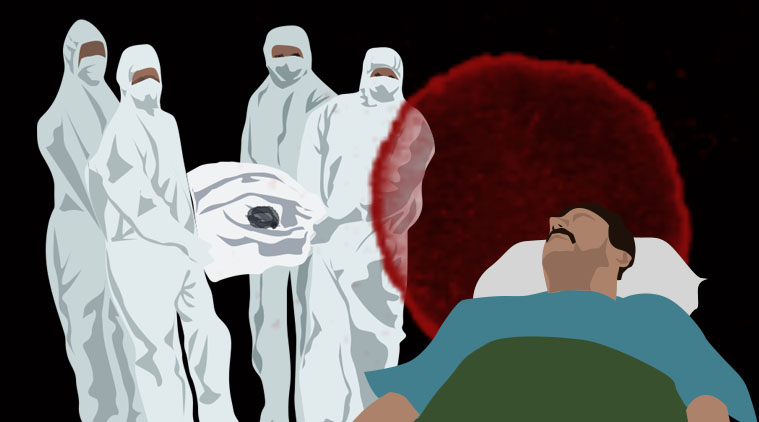 Srinagar: As the death toll due to the Nipah virus has reached 17 in Kerala, and the virus is  reportedly spreading to Goa and Kolkata, the state of Jammu and Kashmir is still in deep slumber and yet to take any preventive measures to contain the epidemic.
In Kashmir the threat of deadly Nipah virus looms large since it receives tourists from every part of India.
The government is yet to adopt specific measures to manage the disease even as the neighbouring state of Himachal Pradesh has already sounded an alert.
Doctors have raised serious concerns over the 'lazy' attitude of the government about the deadly virus and have lambasted it for saying that there were no chances of it spreading to Kashmir.
"It is a deadly virus with a mortality rate of up to 75% and more serious than H1N1. If, God forbid, it was to reach here, it could lead to more deaths than from the swine flu," said Doctor Nisar ul Haq, who is the president of his faction of Doctors Association of Kashmir (DAK).
He told The Kashmir Press that  the government needs to take strict measures in order to protect people from the deadly virus.
"The government also said the swine flu would not affect Kashmir, but we all know that scores died because of it and the result of the government's callousness," Haq said.
He said that government should act before it is too late.
"It is a tourist destination, and people from all parts of India come here. There should be proper screening of every tourist that lands here so that lives are saved," he said
So far the health department has issued advisories asking people to desist from eating raw fruits but has also been claiming that there was no chance of a Nipah virus outbreak in Kashmir.
State Surveillance Officer for Disease Control, Manzoor Qadri, says, however, that no advisory had been issued.
"We have not issued any advisory and have only provided general information to doctors, since it is relatively new virus," he said.
On being asked why the state had not started screening tourists, Qadri told The Kashmir Press  that there was no need to do so.
"It has not been established that the virus spreads through human to human contact; also, it is the centre that issues advisories. They have not issued any such thing," he added
Qadri dismissed speculations that the virus could affect the state the way swine flu did.
"Nipah is restricted to two districts in Kerala, so we don't think that it can affect Kashmir," he informed.
Initially it was believed that the virus spreads through bats, but new reports suggest that bats may not be responsible for the outbreak.
"The disease does not spread through bats but through human to human contact, and that can be through any human secretion," said another doctor pleading anonymity.
The doctor added that the new study indicates that there was a greater chance for the virus to be transmitted in Kashmir.
"Let alone physical relations, even if one comes into contact with sweat from another person, one can contract the disease," doctor said.
The doctor further said that prevention was the cure for the disease, as there were no vaccines yet to tackle it.
"One should maintain good hygiene and wash hands regularly. Also avoiding unwashed fruits and vegetables is the key," the doctor added