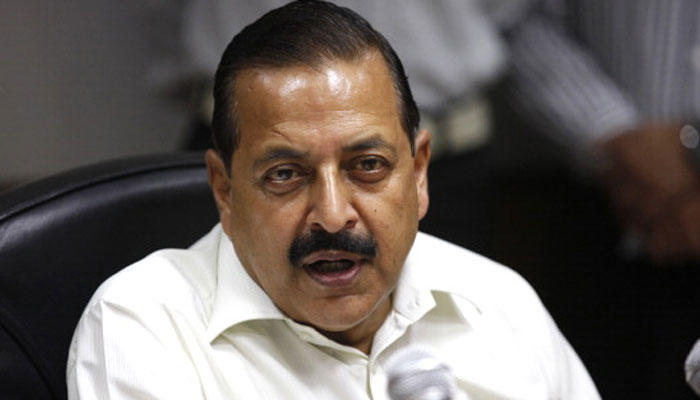 Srinagar: Jitendra Singh, Minister of State in Prime Minister's Office, describes the political struggle in Kashmir as "mercenary freedom struggle".
In an interview with CNNNews18, Mr. Singh said that "the freedom struggle in Kashmir is not following a Martin Luther, Nelson Mandela or Mahatma Gandhi model. What struggle is this in which children of a neighbour are instigated to pelt stones?"
In a harsh message to the Kashmiri youth, Mr. Singh said that "stone pelters will be dealt with as they are supposed to be dealt with. Terrorists will be dealt with as they are supposed to be dealt with."
"Protagonists of this so-called freedom struggle do not even respect and follow their faith, Islam, and do not respect sanctity of the holy month of Ramzan," he said while answering a question about isolated incidents of stone throwing and weapon snatching in various parts of the Kashmir Valley.
In response to another question about the cessation of cordon and search operations against militants during the month of Ramzan, Mr. Singh categorically said that it was "wrong to call government's decision a ceasefire".
"Let us be very clear. It is not a ceasefire per se. It is a conditional suspension of operations during the month of Ramzan, but our forces are free to take retaliatory action," he said.
Mr. Singh also blamed Pakistan for "causing harm to civilians in Ramzan."
Talking about the resistance camp, Mr. Singh in a condescending tone said that "even separatists in Kashmir have been mainstream leaders in the past. Since they failed to win elections, they turned to separatism to do politics."
Mr. Singh appealed Kashmir's civil society to help and guide youth towards peace.
He hoped that government's 'conditional ceasefire' will "help in ending alienation of the youth in the Valley".