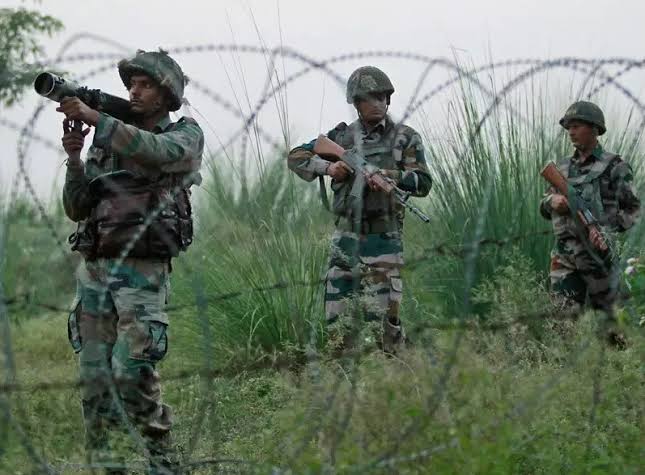 After killing 460 militants and 235 civilians in less than two-and-a-half years, New Delhi announced to halt its anti-militancy operations in restive Jammu and Kashmir during Ramzan — the holy month of fasting.
To this effect, office of the Home Minister of India sent out this tweet: "The Centre asks Security Forces not to launch operations in Jammu & Kashmir during the holy month of Ramzan. Decision taken to help the peace loving Muslims observe Ramzan in a peaceful environment. HM Shri @rajnathsingh has informed the Chief Minister, J&K of Centre's decision."
Another tweet from the same handle: "Security Forces to reserve the right to retaliate if attacked or if essential to protect the lives of innocent people. Government expects everyone to cooperate in this initiative and help the Muslim brothers & sisters to observe Ramzan peacefully and without any difficulties."
After killing Burhan Wani, the young and tech-savvy Hizb commander in south Kashmir, on 8 July 2016, government forces in Jammu and Kashmir have enjoyed an upper hand over local armed rebels operating in the Kashmir Valley.
In the first four-and-a-half months this year, at least 69 militants have been killed by government forces which include some top militant commanders.
Prior to this, the Jammu and Kashmir government in 2017 claimed that "213 militants were killed and as many as 51 civilians lost their lives during anti-militancy operations" launched by armed forces.
In a written reply to a question posed by the Bharatiya Janata Party's Sat Sharma, Jammu & Kashmir Chief Minister Mehbooba Mufti had informed the Legislative Assembly that "213 militants, including 127 foreign militants and 86 local militants, were killed in 2017 as compared to 150 militants, including 119 foreign militants and 31 local militants, in 2016."
Other reports claimed that 165 militants were killed in 2016 and 220 more in 2017.
In last two-and-a-half-years (2016, 2017 and first four months of 2018), government forces have killed over 460 militants which include senior and top commanders like Sabzar Ahmed Bhat (Hizb), Junaid Mattoo (Lashkar), Bashir Lashkari, Yasin Yattoo alias Mehmood Gaznavi (Hizb), Yawar Bashir Wani, Sameer 'Tiger' (Hizb), Saddam Padder (Hizb), Zubair Turray (Hizb) etc.
Besides, government forces also killed 235 civilians in Kashmir since 2016.
Since a popular civilian summer uprising in 2008, forces have killed over 600 civilians in street protests and during other forms of civilian agitations across Kashmir.
In 2017, government forces launched a joint offensive against local rebels and named it as 'Operation All-Out' with the aim to "flush out militants in Jammu and Kashmir".
Political scientists argue that most of the local boys who have picked up guns against the state in Jammu and Kashmir "are not well trained in using weapons, and are not battle-hardened".
They say that a few Kashmiri boys have chosen the path of gun as a "symbolic political act".
"The new-age militancy in Kashmir cannot be compared with the armed struggle of the Afghans or any other armed struggles in various parts across the globe. Here in Kashmir, the armed rebellion is essentially a symbolic act of politics in the absence of space for expression of democratic dissent," a leading political scientist told The Kashmir Press.
Meanwhile, according to official data, "87 security forces personnel were killed in militancy-related incidents in Jammu and Kashmir in 2016, 78 armed forces personnel killed in 2017 and 15 more in first four months of 2018".
Against killings of 460 militants and 235 civilians, government forces also lost 170 personnel in militant attacks since 2016.