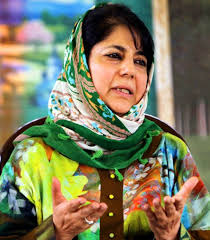 Chief Minister Mehbooba Mufti Sunday spoke to Union Home Minister, Rajnath Singh and took up cases of harassment of people from Kashmir with him.
 Mehbooba requested the Union Home Minister to issue necessary instructions to the concerned agencies so that the people from the State, who are studying, doing business or working in other parts of the country, do not feel inconvenienced and that they carry on their activities without any interference.
 Rajnath assured the Chief Minister to look into the cases and take strict action.
 The meeting has come at a time when two harassment cases against Kashmiris were reported from New Delhi and Himachal Pradesh.
On Thursday a Kashmiri family was beaten up by a mob carrying sticks in New Delhi's Sidharta extension.
A video of the incident that became viral on social media showed a Kashmiri girl along with her family being beaten by a mob 30 to 40 people. 
The family accused the locals of harassing them for years as they were Kashmiris and were beaten for being 'Kashmiri Muslims'
 The family alleged that the accused called them "Kashmiri terrorists" while beating them up.
 Giving a weird reason for harassing Kashmiris, locals had alleged that the family had been feeding stray dogs in the area due to which there population was increasing.
Following the incident, police arrested four people on Saturday.
 The Delhi Police Commissioner Amulya Patnaik informed Union Home Secretary Rajiv Gauba that the incident had nothing to do with the "origin" of the siblings, media report quoting an official  said.
 The MHA too, in a statement, had reiterated, "The incident has nothing to do with the origins of the family… A dispute over feeding of stray dogs took place on Thursday night."
 In another incident in Manali on Saturday a Kashmiri businessman was assaulted.