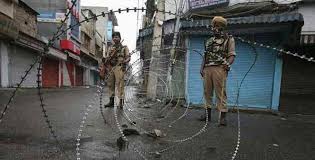 Following the strike call given by Joint Resistance Leadership, a complete shutdown is being observed in Kashmir valley on third straight day on Tuesday against the Civilian killings by government forces' in South Kashmir's Shopian district on Sunday.
The normal life has came to a standstill as all schools, shops, business establishments are closed in all districts of valley.
The strike call was given by Joint Resistance Leadership.
Five militants including a top commander Sadam paddar and Assistant Professor of Kashmir University were killed in an encounter with forces and meanwhile five civilians were also killed by the government forces.
In the backlash of killings scores had received firearm injuries during the clashes between the locals and forces' in Shopian area of South Kashmir.
Meanwhile, internet services continue to remain suspended for third consecutive day in valley and train service has also been suspended in the Kashmir valley.