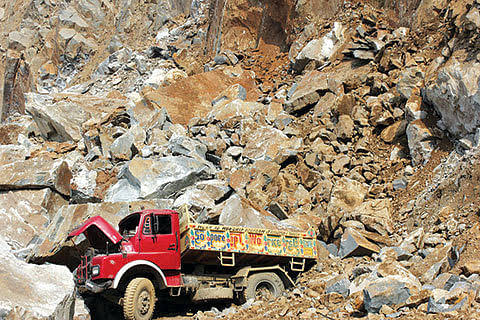 Awantipora, Jul 27: Dozens of stone quarry workers in the Awantipora area of south Kashmir's Pulwama district have demanded permission for the resumption of their work.
The stone quarry workers said that their work was stopped three months ago which has rendered hundreds of people jobless.
We have been left jobless and our families have been pushed to starvation, said Ghulam Ahmad, a stone quarry worker. "We have been associated with this work for decades. Now, what will we do for a living?", he asked.
"Our livelihood is being snatched. If the ban persists, where will we go? How would we feed our families?" asked another worker.
Most of the workers who also live in the vicinity said, "The government says 'Sab Ka Saath Sab Ka Vikas' but has snatched the livelihood of poor families. We were paying a government-prescribed amount as royalty and there was no illegal work going on."
Another local Bashir Ahmad said they have been doing it for generations and had been earning their bread and butter from it, but the ban on quarrying has brought them on the brink of starvation.
"The skill of stone carving which had been passed on from generation to generation is now under threat. How can we take any other job at this age," the 54-year-old Bashir said.
The workers said they have been visiting the office of the DMO and DC Pulwama who "assured us that we will be allowed to work within a few days, but three months have passed and we are still not allowed to resume our work".
Despite giving royalty to the department and having all documents complete, the authorities are still not allowing us to work, they added.
The workers have appealed to Lieutenant Governor Manoj Sinha and DC Pulwama to "listen to our genuine demands and allow us to resume their work so that our families won't suffer anymore".kno