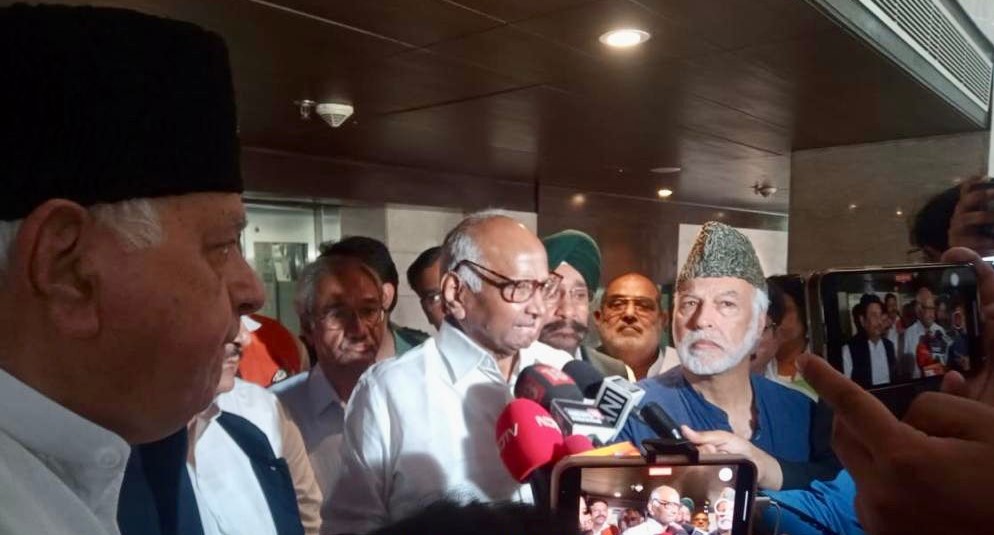 Srinagar: March 16: National opposition and Jammu and Kashmir regional parties on Thursday submitted a memorandum to Election Commission of India, seeking early assembly polls in the Union Territory.
The signatories of the memorandum include National Conference president Dr Farooq Abdullah, Congress national president Mallikarjun Kharge, CPI (M) General Secretary Sitaram Yechury, NCP chief Sharad Pawar and other senior leaders of national political parties.
The memorandum reads that Jammu and Kashmir is without a legislative assembly and an elected government for last five years.
"In disregard of the letter and spirit of the Constitution, an unrepresentative and unaccountable bureaucracy is allowed to run the government to the discomfort and inconvenience of the general public," it reads.
It reads that the panchayat elections and elections to other PRIs cannot be substitute to legislative assembly elections and the government and for that matter the ECI cannot avoid and delay assembly elections on that ground.
"Had it been so, there would be no need to conduct assembly elections in states, that the ECI is with due dispatch and punctuality, as is evident from recently held assembly elections in Meghalaya, Tripura and Nagaland and the elections scheduled to be held in Karnataka."
It added in each case the argument though, inherently specious, could have been that as PRIs were in place there was no need to hold assembly elections."
"The Hon'ble Home Minister and other functionaries of Government of India have more than once stated that the government is ready to facilitate conduct of assembly elections and final call is to be taken by the Election Commission of India."
It reads the Election Commission of India is under a constitutional obligation to hold assembly elections in Jammu and Kashmir and delay in and denial of assembly elections would amount to denial of fundamental and democratic rights of the people of Jammu and Kashmir and a breach of constitutional obligations.
"We however reiterate that the assembly election would be first and important step towards restoration of all the constitutional rights guaranteed in the constitution of India and fulfilment of political aspirations of the people of Jammu and Kashmir," it reads.
The memorandum reads, "We the signatories to this memorandum representing different political parties of Jammu and Kashmir and various national political parties implore and request the Hon'ble Election Commission of India to announce the assembly elections in Jammu and Kashmir without any further delay and notify the election schedule so that the democratic rights of the people of Jammu and Kashmir and access to democratic institutions is restored."
Earlier in the day, J&K leaders during a meeting with representatives of various national opposition parties discussed prevailing situation in Jammu and Kashmir and delay in holding of assembly elections—kno