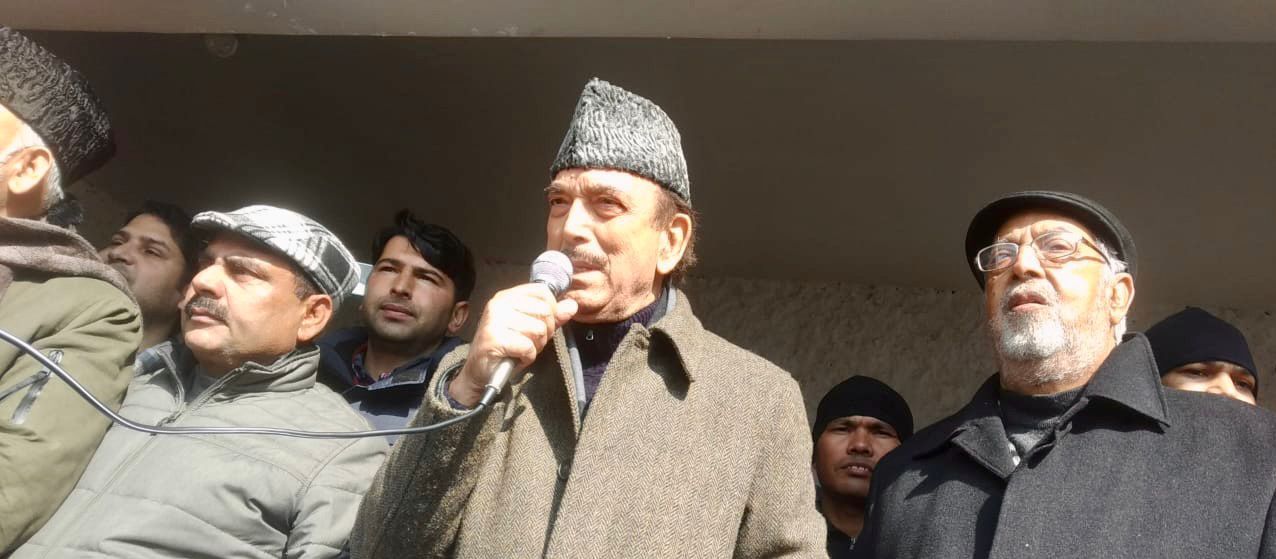 Sopore, March 15 :  Democratic Progressive Azad Party (DPAP) party Chairman Ghulam Nabi Azad on Wednesday has demanded the immediate restoration of statehood
"We demand the immediate restoration of statehood and our Party will continue to fight for it in addition, if our party emerges victorious in the upcoming elections, the jobs and land shall be secured through legislation," Azad  said while speaking to a public gathering in Zaloora Sopore.
"Article 35 A was taken away. There were two main rights for the people of J&K because under that we have to restore land and job rights. But, that can be done only through an assembly, by passing a law in the assembly so that outsiders cannot get employment or land here."
Azad said 'he and his party colleagues do not fear anyone and will rid J&K of the currently prevalent system". "We do not fear anyone, we do not fear any raids, we are not afraid of being jailed. We have not done anything in our life to fear either the central government or the state government," he added.
Azad said his track record as Chief Minister of Jammu Kashmir is in front of people. "People are witnesses to the holistic development of the erstwhile state when I was the chief minister. I changed the complete landscape of Jammu Kashmir with hundreds of projects sanctioned and later executed in triple shifts. Jammu Kashmir deserves again the same era since the poor and incompetent governance has left people dejected and disappointed. He said the people are harassed and facing security concerns and it would be his priority to ensure every person in Jammu Kashmir enjoys full security and safety with no harassment at all.
Among others who were present on the occasion were G.M.Saroori Vice Chairman, Taj Mohiuddin Treasurer, Haji Ab Rashid Dar General Secretary, Mohd Amin Bhatt Provincial President, Salman Nizami Chief Spokesperson, Munner Mir Distt President Kupwara, Shafiq Shabnam, Sujada Bashir, Farooq Shikari, Umar Kakroo, Amir Rasool, Sajjad Ahmed, Shahjahan Dar, Arif Maqbool, Altaf Dar, Waseem Yaqoob, Ubair Mushtaq & others.