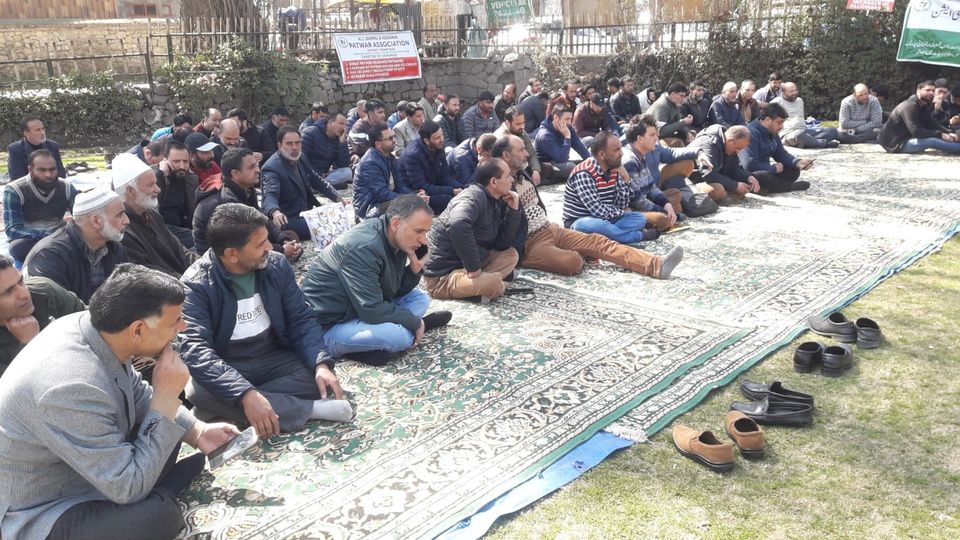 Srinagar, Mar 7: The Anantnag Patwar Association staged a sit-in protest at Achabal against the administration to press for an early redressal of their demands.
The Patwar Association said they have also been demanding a hike in pay scales for Patwaris, timely departmental promotion of Patwaris and Girdawars, a ban on direct recruitment of Tehsildars, construction of Patwar Khanas, creation of Patwar Halqas and Girdawar circles, timely conduct of DPCs, and an increase in their allowances.
"We are sitting here under the banner of All Jammu and Kashmir Patwari Association for the seventh consecutive day, to let the government know about our demands. We graduate patwaris have a grade pay issue which the government should consider."
"Like other Education and Finance departments have handsome grade pay, and teachers have a grade pay of 2800, while account officers in the finance department have handsome grade pay. Similarly, we graduate Patwaris demand a genuine increase in our grade pay."
"The other issue is that Girdawar circle and Pathwar Halqa are the same since the time of Maharaja Hari Singh. As we all are aware, so much development has been done since then we as such demand delimitation of Pathwar Halqa and Girdawar circle," he said.
"We would also like to draw the keen interest of the administration towards the direct recruitment of Naib Tehsildars and we demand a 75:25 quota, like the one in vogue in the Union territory of Ladakh. Of the 75%, Girdawars and departmental Patwaris should be promoted to Naib Tehsildar", he further said.
Meanwhile CPI (M) leader Mohamad Yousuf Tarigami has also urged the government to redress genuine demands of striking patwaris. "The strike of patwaris has paralysed the working in revenue department", Tarigami said.
"The administration has been giving assurances and making promises that their genuine grievances would be redressed, but nothing seems to be happening on ground, forcing them to go on protest. The demands include increase in the grade pay of graduate patwaris, timely departmental promotion of patwaris,girdawaris, rent for Patwar Khanas (Private accommodation), construction of new Patwar Khanas, creation of new patwar halqas and Girdawar circles are all genuine demands, which the must be fulfilled without any further delay", Tarigami in a statement issued here said.
He urged that the Government must talk to the representatives of the Association and take effective steps to settle their genuine demands. gns