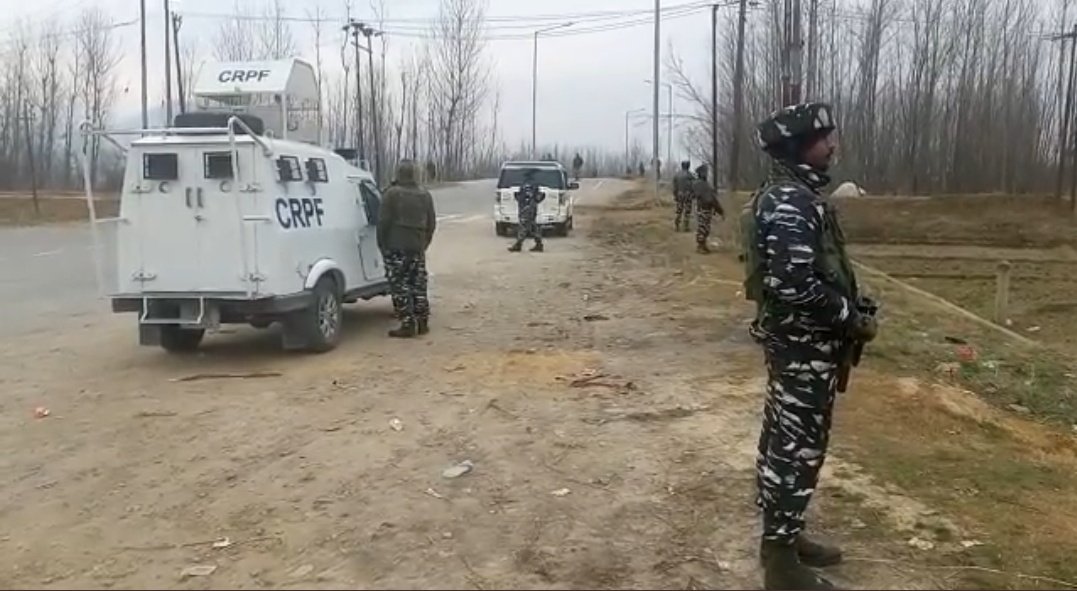 Srinagar, February 28: Two local militants as well an army trooper were killed in a nocturnal gunfight in Padgampora area of Awantipora in South Kashmir's Pulwama district on tuesday.
Addition Director General of Police Vijay Kumar said that two militants, army man were killed and also one army trooper sustained injuries in the gunfight.
The officer further said that the operation was prolonged with utmost care due to the close proximity of Mosque near the encounter site. Aqib Mushtaq was responsible for killing Sanjay Kumar Nath, the officer said.
Meanwhile, both the slain militants have been identified. Aqib Mushtaq Bhat of Pulwama (A Category) and Ajaz Ahmad Bhat( C-Category) Son of Ghulam Mohammad Bhat resident of Syedabad, Pastana Tral, the officer added.
Army in a statement  identified the killed soldier as Sepoy Pawan Kumar and the injured one as Naik Hemraj from Himachal Pradesh. Soon after getting injured, the army said, they were immediately evacuated to 92 Base Hospital, Srinagar where Sepoy Pawan Kumar succumbed to his injuries.
The ADGP said 1 AK-47 rifle, 1AKS-74u rifle, 1 pistol, 2 grenades, 2 pouches, 5 AK magazines, 2 pistol magazines and 2 AADHAAR cards were recovered from militant duo.
Investigation so far revealed that both the militants, although joined through different militant organisations, had come together to conspire and attack minorities, outsiders, other vulnerable targets and security forces, the officer said.
They were involved in FIR No. 14/2023 PS Litter (recent killing of Kashmir Pandit Sanjay Pandita at Achan), FIR No 82/2022 PS Pulwama (attack of 2 outsider labourers at Lajoora), FIR no 115/2022 PS Tral (weapon snatching attempt), FIR No 76/2022 PS Tral (OGW module which supported them for grenade lobbing) among many other cases, the officer added.