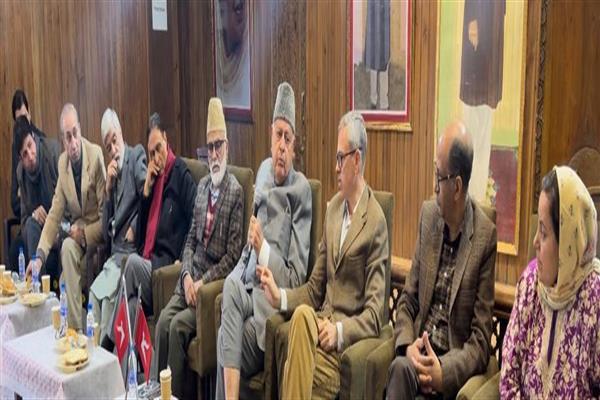 Srinagar Feb 23: National Conference (NC) President and Member of Parliament Dr Farooq Abdullah said that when NC comes to power, it will roll back all the anti-people steps.
He made these comments while chairing a provincial committee meeting at the party headquarters Nawa-e-Subha, Srinagar. Party Vice President Omar Abdullah was also present on the occasion.
During the breadth of the meeting the functionaries highlighted the contemporary public and party issues, including the inflation, unemployment, rampant demolition drive, and imposition of the property tax. The committee members also gave their estimation of the prevailing ground situation with regards to the deteriorating security situation, development deficit and the rising tide of intolerance against contrarian views in J&K. The underway wanton suppression and prolonged detention of local youth besides plethora of other issues were also raised in the meeting.
Interacting with the functionaries, Dr. Farooq said that the down sliding of democracy has hurt every sector of Jammu and Kashmir without any exception. "The litmus test for a democracy is if the policy decisions are made through democratic procedure and have popular support. Unfortunately the current administration's decisions sans both!" he said.
Terming the recent government actions as anti-people and a grave injustice, he said, "Such decisions must be left to a democratically elected government in J&K. It all started with disempowering, disenfranchising our people, now they are dispossessing them. We won't allow this. If NC comes to power, all these anti people policies have to go lock stock and barrel. We cannot act as mute spectators to the injustices committed by this government. People will punish them through elections as and when they are held. They cannot run away from it for long, one or the other day they have to face the people's raging anger." He asked the functionaries to enhance their public contact.
Party General Secretary Ali Muhammad Sagar, Provincial President Nasir Aslam Wani, Chief Spokesperson Tanvir Sadiq, Senior leaders Choudhary Muhammad Ramzan, Shameema Firdous, Sakina Itoo, Irfan Shah, Dr. Bashir Ahmed Veeri, Ali Muhammad Dar, Mir Saifullah, Nazir Gurezi, Aga Mehmood, Dr Sameer Kaul, Political Advisors to President Mushtaq Guroo, Political Advisor to VP Mudassar Shahmiri, State Spokesperson Imran Nabi Dar, Ahsan Pardesi, Syed Tauqeer, YNC Provincial President Salman Ali Sagar, Ghulam Mohi Ud Din Mir, Dr. Sajad Uri, Showkat Hussain Ganaie, Peer Afaq Ahmed, GR Naaz, Abdul Majeed Larmi, Muhammad Khalil Bandh, Sheikh Muhammad Rafi, Shabir Ahmed Kullay, Saif Ud Din Bhat, Dr GN Bhat, Provincial Spokesperson Ifra Jan, Sabiya Qadri, Farooq Shah, Nazir Malik, Hilal Lone, Hashim Hussain, Dr. Syed, Qaisar Jalali, Hilal Akbar Lone, Shahid Ali, Adv Neelofar, Irshad Kar, Reyaz Khan, Reyaz Bedar, Peerzada Faroz, Dr Muhammad Shafi, GH Rahi, Danish Iqbal others were present in the meeting.