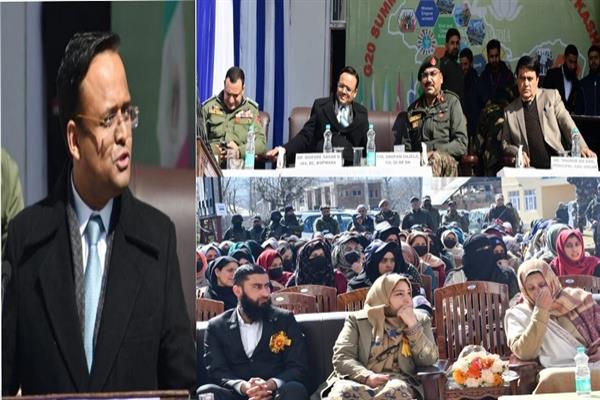 KUPWARA, FEBRUARY 23 : The Deputy Commissioner (DC) Kupwara, Dr. Doifode Sagar Dattatray, today chaired a one day Seminar on " G-20 Summit 2023 & opportunities for Kashmir" at Government Degree college Sogam (Lolab), organised by the college management in collaboration with 28 RR.
The event, part of various outreach activities on 'Azadi Ka Amrit Mahotsav', G-20 Presidency and Mission Shakti, was co-chaired by Yougal Manhas, SSP Kupwara and presided over by Colonel Anupum Hajela, Commanding officer 28 RR Bn.
This mega event comprised of seminar and debates was patronised by Dr. Shamim Ahmad Dar, Principal, GDC Sogam.
Programme was attended by students of degree college, higher secondary schools and other educational institutions besides ardent speakers and intellectuals from different subjects and fields.
In his inaugural address, the DC said India has achieved G-20 presidency when it is celebrating 75 years of its independence called as Amritkal. He said India holds the presidency of the G-20 from December 1, 2022 but in actual India remained a global leader throughout the ages. India has guided nations of the world with respect to ideologies, cultural orientations, and religious teachings"
The DC while addressing the audience said "I am lucky to address you from such a beautiful and pious land of Lolab in Kupwara district which has lead the world in many ways. When we talk of ancient ages, when people used to live in forests and caves, the Kupwara district used to be a hub of education as at "Shardi village of Kishanganga in the close proximity of Kupwara district, there was Sharda peeth global University".
Similarly, Lolab of Kupwara district has produced a visionary called Anwar Shah Kashmiri who lead the world through his noble ideas, ideologies" these apt words of DC Kupwara on the soil of Anwar Shah Kashmiri stole the show and attracted the appreciations from the audience and there were cheers for Deputy Commissioner Kupwara from all sides.
The DC appealed the students and youth of the Lolab to work for national integration, communal harmony, and brotherhood and contribute for community, Kupwara and for the nation.
While projecting the development scenario of the district, DC said that Swatchta "cleanliness" disposal of human excreta on scientific basis, preservation of environment and biodiversity are big challenges before the district administration. There is need of behavioural change and adopting of good sanitation and cleanliness practices among the rural masses.
Use of polythene and spreading of filth need to be to curbed to save the environment from soil pollution and water pollution, he added.
DC asked the participants to take a pledge that we all will make efforts to preserve and protect the environment from pollution and degradation and contribute for the society and deliver our responsibilities and duties towards our nation, district and our native place.
He said that we are working on all round development of students under new education policy of Government of India. Under Zimmadari project we have renovated some 1500 schools of the district and now we are focussing on the personality development of students.
DC asked the parents and students to visit any educational institution of their area as a token of encouragement for the students and staff of the school.
He said that he recently visited Army goodwill school Chandigam which is an example of an ideal school. There are several examples in our district which need to be replicated.