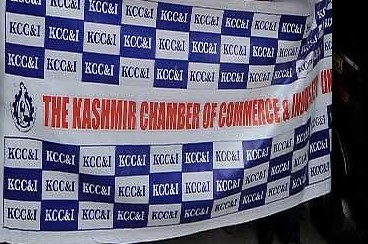 Srinagar, Feb 21: After three years' delay, the Kashmir Chamber of Commerce and Industries (KCC&I) on Tuesday elected its new executive committee with 21 candidates in the fray emerging victorious.
Sources privy to the developmentsaid that 42 candidates were in the poll fray today of whom 21 emerged victorious.
They said the highest number of votes were bagged by Akib Chaya with 453 voting in his favour followed by Umar Nazir Tibatbaqal with 444 votes.
Those who have been elected include Aashaq Hussain Shangloo, Faiz Ahmad Bakshi, Javid Ahmad Bhat, Amir Manzoor, Muzaffar Majid Jan, Ashfaq Ahmad Zahgeer, Farooq Ahamd Kuthoo, Ghulam Nabi Bhat, Fayaz Ahmad Punjabi, Altaf Ahmad Tramboo, Jagmohan Singh Raina, Mohammad Lateif Bhat, Siah Mohammad Ibrahim, Suhail Jan, Zubair Mahajan, Touseef Ahmad Bhat, Feroz Ahmad Bisati, Showkat Khan and Zahoor Hussain Alamgir.
The elections were held under the supervision of Deputy Commissioner Srinagar, Muhammad Aijaz Asad, Registrar J&K High Court Judicial, Government of J&K and the Election Committee of KCC&I.
Sources said that the executive committee elected for the term of one-year, will now elect its body within a day.
Pertinently, the elections to elect the new executive committee have been conducted after the delay of three years due to Covid outbreak and other issues. The last election was held in 2019.
The High Court of J&K and Ladakh had in December last year ordered that the elections of Kashmir Chamber of Commerce and Industry (KCCI) be concluded within a month.kno