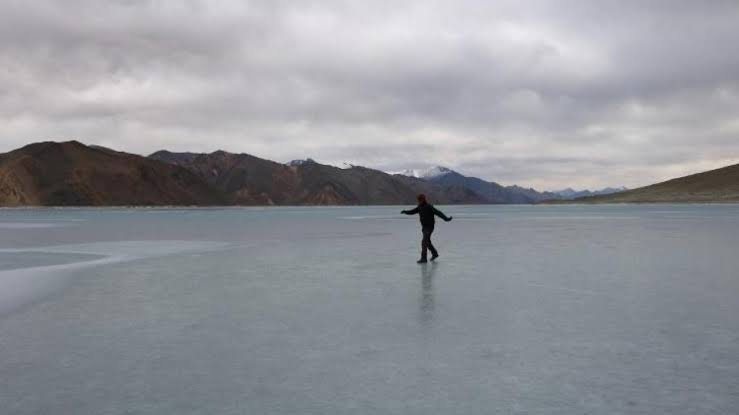 Srinagar, Feb 20: The world famous Pangong Tso Lake in Ladakh on Monday hosted the first-ever frozen lake marathon at an altitude of roughly 13,862 feet while the event was recorded in Guinness World Records.
The 21-kilometre marathon was India's first of its kind. The marathon occurred at a height of 13,862 feet and was the first of its kind to take place in the globe at this altitude.
India's first 21 km long Pangong Frozen Lake Marathon was organized by Adventure Sports foundation of Ladakh (ASFL) in collaboration with Ladakh Autonomous Hill Development Council Leh and Ladakh Tourism Department.
Officials said that the purpose of organising this frozen lake marathon was to promote sustainable tourism and create awareness about climate and the environment.
It was brainchild of Adventure Sports Foundation of Ladakh (ASFL), who had nicknamed it "The Last Run" to highlight a bleak reality: given the precarious state of Himalayan glaciers due to global warming, parts of the lake may be unfit for a race of this kind in the years to come, they said.
Participants literally run on frozen sheets of ice on the majestic Pangong Lake during the one-day event, they said, adding that the reason it was being referred to as the final run is that Pangong Lake would unlikely freeze in the near future owing to climate change.
If we don't pay close attention to this sight now, it will be uncommon for the following generation, they said.
This event was recorded in the Guinness world record for the world's highest frozen lake marathon.
"India's first frozen lake half marathon was successfully held at Pangong Tso today. Event was recorded as "Highest Altitude Frozen Lake half marathon" in Guinness World Records," Deputy Commissioner Leh tweeted.